During the 1920s and 1930s, Santa Fe and Taos were recognized as two of the nation's – and world's – most important art communities. The cosmopolitan denizens of these relatively remote outposts embraced a multicultural America by engaging with Native American and Hispano populations. New Beginnings: An American Story of Romantics and Modernists in the West presents more than 100 works based on artists' impressions of New Mexico, that were created over the course of a century from the late 1800-1900s. By placing the works of lesser-known artists alongside pillars of the art community, New Beginnings offers a fresh perspective and new dimension to the history of the Taos and Santa Fe art colonies and their enduring legacy.
This traveling exhibition is comprised of works on loan from Tia Collection.
This exhibition is made possible in part by: Montaner Charitable Trust and Greg Nelson.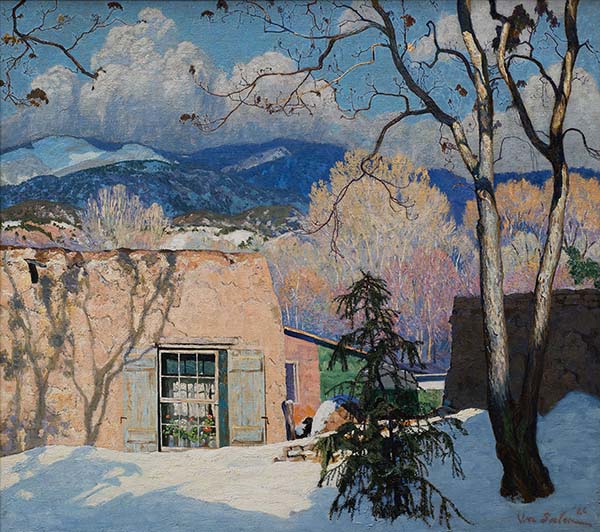 THEODORE VAN SOELEN, Adobe, Snow and Sunshine, 1926, Oil on canvas, 36 1/8 x 40 in. Photography by James Hart Photography, Santa Fe, New Mexico. Courtesy of Tia Collection, Santa Fe, New Mexico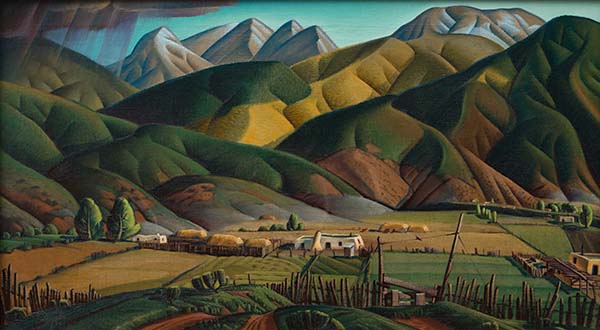 ALEXANDRE HOGUE, Across the Valley, 1929, Oil on canvas, 20 x 36 in. Photography by James Hart Photography, Santa Fe, New Mexico. Courtesy of Tia Collection, Santa Fe, New Mexico