Early 20th Century & Taos Society of Artists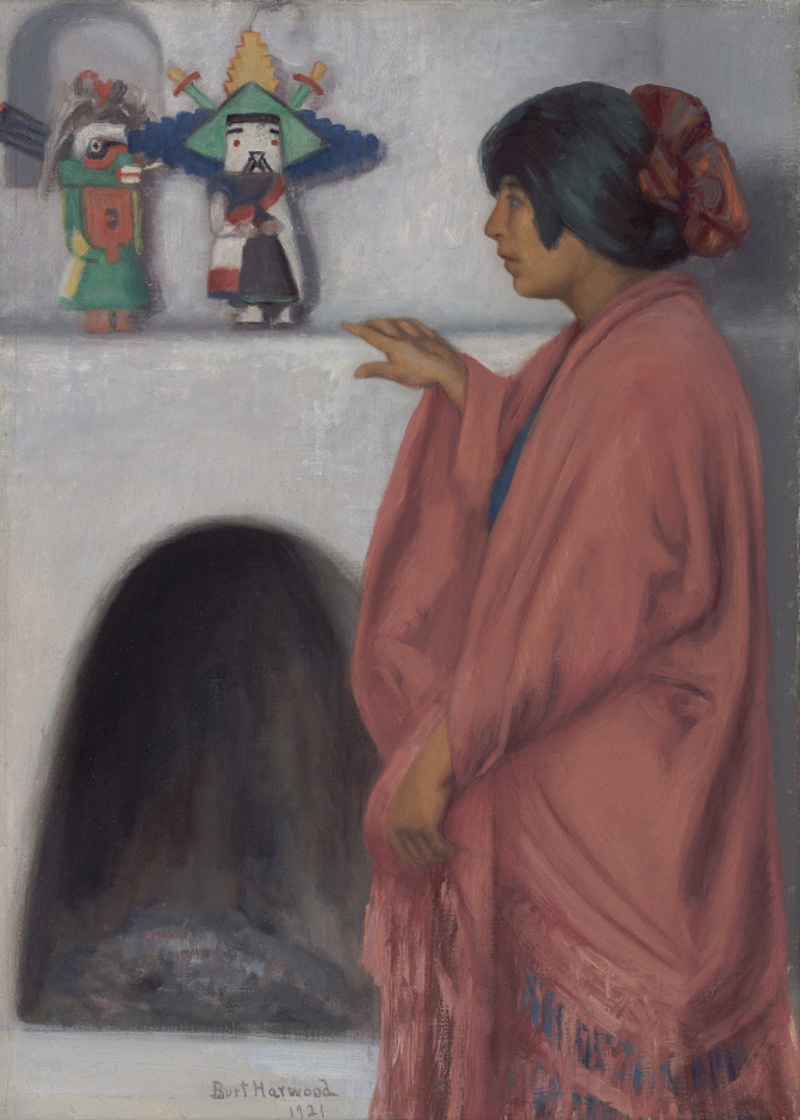 Taos Society of Artists – Promoting Taos to the World
The artistic culture of Taos spans centuries, however the establishment of the community as an art colony was due to the adventurous nature of several painters who came to Taos and became enchanted by the unique cultures, breathtaking landsapes and seemingly unspoiled way of life. Six adventurous painters in the early 1900s introduced Taos to the world and transformed our remote mountain town into the world-renowned art colony that continues into the 21st century.
These artists were enchanted by the unique cultures, breathtaking landscapes, and the Taos Pueblo life. Many artists in the society were also in art collectives in Europe. The Taos Society focused on the Southwestern landscape's fundamental themes and light and Northern New Mexico's Native American and Spanish cultures. Credentials for inclusion in the Taos Society of Artists were artists had to have worked in Taos for three consecutive years, proven their interest and skill in painting Native Americans, and shown work in well-regarded galleries or New York exhibitions.
Beginnings of the Taos Society of Artists
Joseph Henry Sharp, a Cincinnati artist who had decided to make the painting of Native American his life's work, made a trip to New Mexico during the summer of 1893. Taos particularly impressed him. When he studied art in Paris at the Académie Julian the following two years, he told others about New Mexico.  Bert Geer Phillips and Ernest L. Blumenschein took his advice and decided to explore the area during a painting trip to the Southwest.
Learn More
Blumenschein and Phillips were traveling from Denver to Mexico in September 1898 when their wagon wheel broke twenty miles north of Taos. Decided by the toss of a three-dollar gold piece, Blumenschein rode into Taos to get the wheel fixed while Phillips remained behind to guard their wagon. They found Taos and its Pueblo culture even more intriguing than Sharp's description of it and stayed to paint Taos Pueblo's landscape and people. Two months later, Blumenschein returned to New York City while Phillips remained in Taos. The two artists began writing to each other about the possibility of an art colony in Taos.
Blumenschein talked about the beauty and artistic promise of northern New Mexico to a wide circle of friends and acquaintances both in New York and Paris. All three of these early painters envisioned an art colony founded on the French Barbizon painters' model who, starting in the 1830s, took up summer quarters in the small village of Barbizon to paint directly from the landscape. This is also how Burt & Lucy Harwood came to study in France and then came to Taos. As a matter of fact, Burt Harwood studied first in the Paris Académie Julian in 1884, a decade before Phillips and others were there. They both moved to Paris in 1896 right after their honeymoon, painting and living in France for 20 years.
By 1912, Blumenschein, Oscar E. Berninghaus, E. Irving Couse, W. Herbert 'Buck' Dunton, and Joseph Sharp had arrived in Taos. These five, plus Phillips, shared a strong attraction to Taos and formalized their relationship by creating the Taos Society of Artists, which existed from 1915 to 1927. Later members included Julius Rolshoven, E. Martin Hennings, Catharine C. Critcher, Kenneth Adams, Walter Ufer, and Victor Higgins. The Society sent traveling shows of its members' works throughout the country. The images they created, frequently of Native Americans, northern New Mexico Hispanos, and old-timer Anglo-Americans and landscapes, came to define the first decades of the art colony. Phillips and Higgins were founding members on the Harwood Foundation's Board right after that organization was founded in 1923.
Taos Society of Artists & Early 20th Century Art at the Harwood Museum
Our Dorothy and Jack Brandenburg Gallery features works by members of the Taos Society of Artists, including Victor Higgins' most important painting, Winter Funeral. Higgins gifted this painting to the Harwood Museum and hung it above the fireplace himself, Winter Funeral is almost always on view at the museum. The gallery also features works by other Taos artists working during the early twentieth century from Harwood's permanent collection.
Our permanent art collection includes art by five of the six Taos Society of Artists original members and other notable Early 20th Century artists:
Kenneth Adams
Ernest L. Blumenschein*
Mary G. Blumenschein
Irving Couse*
Mabel Degan
W. Herbert "Buck" Dunton*
Martin Fischer
Blanche C. Grant
Burt Harwood
E. Martin Hennings
Victor Higgins
Ralph Meyers
Juan Tafiho Mirabal
Oscar E. Berninghaus
Bert G. Phillips*
Joseph Henry Sharp*
Walter Ufer
John Young-Hunter
* "Taos Six" Original founders of the Taos Society of Artists
Explore our permanent art collection and archives of the Taos Society of Artists with images and a searchable database online.