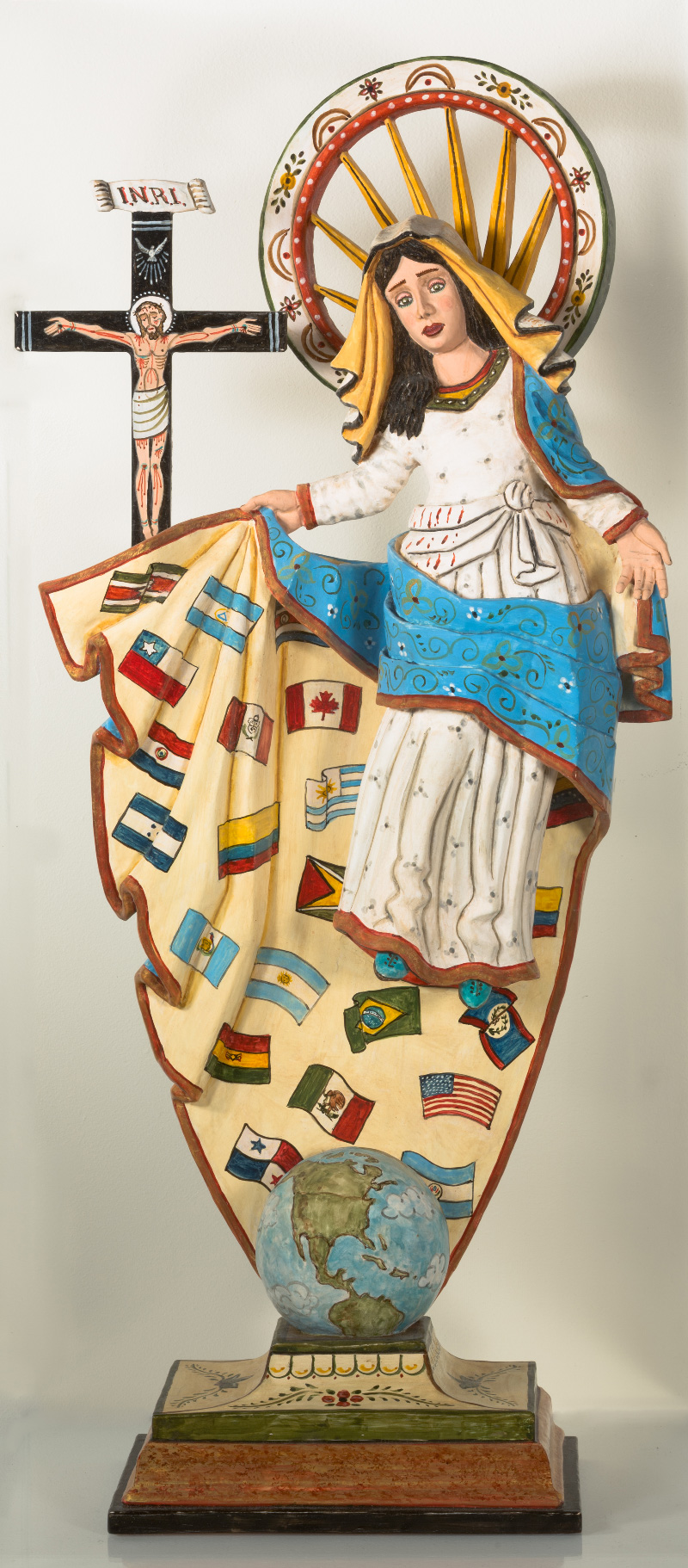 Hispanic, Spanish, and Mexican Traditional Art at the Harwood Museum in Taos
The Harwood Museum has an important collection of Hispanic works covering a broad range of Northern New Mexico's artistic traditions. Early Spanish and Mexican settlers to the area produced functional and devotional artworks.
Religious Devotional Artwork: Santos & Retablos
Santos are well-recognized art forms of Hispanic New Mexico. Santos are traditionally sacred images (paintings or sculptures) of Roman Catholic saints. Santos were made either as retablos (2-dimesional paintings) or bultos (3-dimentional sculpture). Early pieces from New Mexico date from the late 1700s. Most of the Santos in the Harwood collection were gifted by Mabel Dodge Luhan and date from the classic period of 1800-1850. The collection also has santos from the late 19th Century to contemporary works. The artists (Santeros) were commissioned to create these sacred images by churches, families, and devout individuals. Today the tradition of the Santero continues in New Mexico using historic styles and techniques.
Patrociño Barela: A New Mexico Treasure
One of the most influential artists to influence today's santeros was Patrociño Barela (1900-1964). The Harwood houses the most extensive publicly owned collection of wood carvings by Barela. Acclaimed as "discovery of the year" by Time magazine in 1936, Barela's carvings received their national premier at the Museum of Modern Art in New York in a show featuring artists of the Federal Art Project. The Harwood owns several pieces from that show. Although some of his work is on religious themes, he rejected the label of Santero since he did not create art specifically for religious purposes. The majority of his output was secular. He examined all aspects of the human condition with an emphasis on relationships within the family. Stylistically his sculpture has affinities to both 11th Century Romanesque and 20th Century expressionism. Barela's success in creating such a large and complex body of work is unusual for a person of such humble origins. He was the first Mexican-American artist to attain national attention. Barela is considered a visionary artist since he developed a modern style all his own.
Woodwork & Furniture
New Mexico's carpinteros have a long history going back to the beginning of Spanish colonization. Given the high cost of importing furniture from Mexico City, New Mexicans established numerous workshops of their own. Local artisans used simple tools to create necessary furniture items. Our collection includes examples of late 18th Century/early 19th Century cajas (storage chests), harineros (grain chests), and trasteros (kitchen cupboards). Burt and Elizabeth Harwood collected some original works around 1916 and had others restored. The largest grain chest in the collection was made at the Valdez workshop in Taos County and has incised asterisk markings, which seem to have been characteristic of that workshop. Other chests still retain traces of blue and red pigment, showing that they were brightly painted in their original state.
Traditional Tinwork
New Mexico's rich artistic tinwork tradition began with importing Mexican tin traditions and the Santa Fe Trail opening, which provided local artisans with tin as material. When railroads connected New Mexico with the eastern United States in the 1880s, tinwork reached its artistic height. Tin cans, glass panes, and religious prints were fashioned into devotional objects used in the homes and rural Catholic churches of the region. Between 1840 and 1915, thirteen workshops in New Mexico produced unique designs based on specific decorative techniques. The inventiveness of the tinsmiths is evident in their creative use of the available tools and materials. By 1900 most tinsmiths stopped making religious objects, focusing instead on secular items such as sconces, lanterns, and trinket boxes. The later developing tradition of New Mexico tinwork served as an integral part of the Hispanic religious culture during the 19th Century.
Harwood's Architectural Detail
Several projects funded by the State and Federal government, or by private foundations, hired instructors to teach traditional crafts to a new generation. One important project was the major expansion of the Harwood museum building. Revival pieces in wood and tin were produced in vocational programs such as the New Deal's Taos Crafts smithing and furniture school. During 1937-38 Max Luna, Director of the program, and his students produced exemplary tinwork chandeliers for the Harwood. They also created armarios (cabinets), bancos (benches) as well as mesas (tables), and sillas (chairs). Eighty years after their creation, they are still in use in the Harwood offices and galleries.
Hispanic Traditions at the Harwood Museum
Art from our permanent collection of Hispanic Traditions is always on display at the Harwood Museum in our Hispanic Traditions Gallery.
Our permanent art collection includes art by these notable Hispanic Artists:
José Rafael Aragón
Patrociño Barela
Gustavo Victor Goler
Antonio Molleno
See Our Hispanic Traditions Collection
Explore our permanent art collection and archives of the Hispanic Traditions artwork with images and a searchable database online.