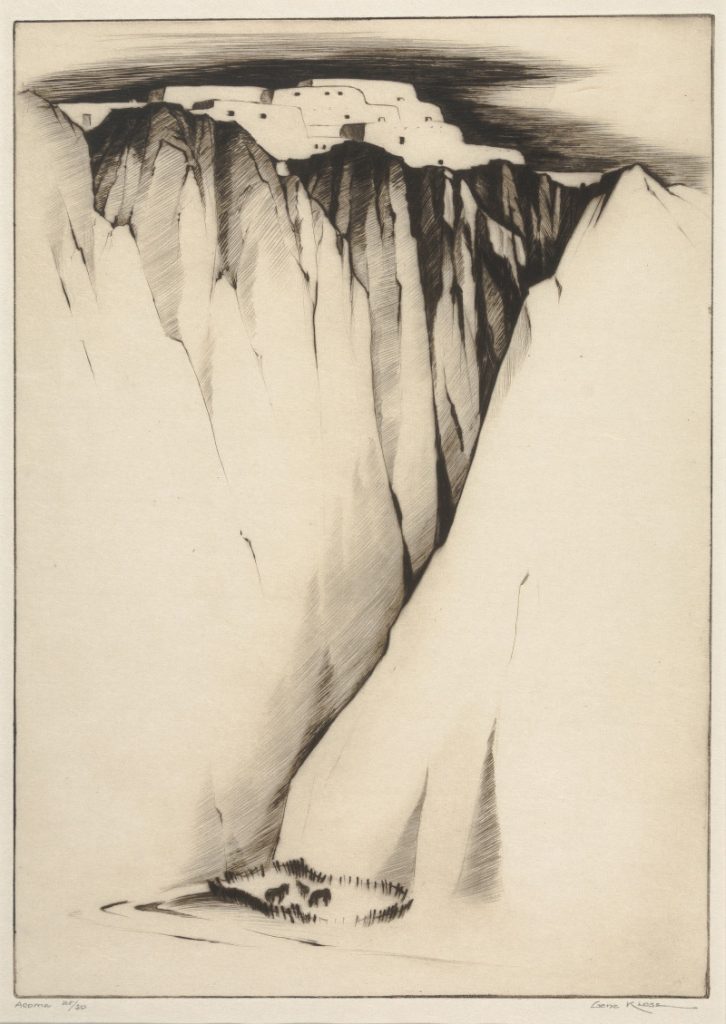 Special Collections at the Harwood Museum in Taos
The Harwood Museum of Art proudly hosts the Taos Municipal School Historic Collection, the Gus Foster Collection and the Marylou Reifsnyder Collection.
Taos Municipal School Historic Collection
The Taos Municipal School Historic Collection is on long-term loan to the Harwood Museum of Art that includes works by numerous Taos artists including, Joseph Henry Sharp, John Ward Lockwood, Joseph Fleck, Ila McAfee, Gene Kloss, Emil Bisttram, Dorothy Brett, Helen Greene Blumenschein, Wolcott Ely, Earl Stroh, Cady Wells, Woody Crumbo, and many others. Once residing in classrooms at Taos High School, the collection was moved to Harwood's state-of-the-art collection storage facility in 2012, where it is available for study by appointment. Taos Municipal Schools retain full ownership of and rights to the collection. Selections are always on view in the museum and works from the collection are regularly used during the Harwood's education programs, serving 1000s of youth in Taos County schools.
History of the Taos Municipal School Historic Collection
In 1948, Regina Tatum Cooke invited members of the Taos art community to exhibit works in the high school auditorium. Superintendent Joe Otero, local P.T.A. President Dorothy Brandenburg, and local artists were excited about the project and eagerly seized on the idea.
The collection strengthened through the further efforts of Alice Kinsinger (Taos' first public school art teacher) and the generosity of the artists of our community. It eventually grew to over one hundred pieces, forming a significant and valuable body of work.
The initial concept of hanging original works in the classrooms proved impractical, and the collection has survived many adventures throughout the years. A partial showing was presented at the Stables Art Gallery in 1965, and again at the old Taos Municipal Schools Administration Building in 1982. The first exhibition of the entire collection, entitled The Fire House Collection Presents: The Taos Municipal Schools Collection took place in 1986. Later, in 1990, the Millicent Rogers Museum exhibited a selected group of works. In 2013, the Harwood Museum of Art held an exhibition that featured a large selection of the works. From 2015 through 2017, a key piece in the collection, Agnes Martin's Mid-Winter was included in the major international retrospective of her work at the TATE, LACMA, and Guggenheim museums.
Gus Foster Collection
The Gus Foster Collection, distinguished by its quality, focus, and depth, includes 391 works by 83 artists including significant collections of Ken Price, Ron Davis, and Larry Bell. The collection is unsurpassed in the number of iconic works created by contemporary artists working in the acclaimed art colony of Taos, New Mexico. In particular, the collection explores in depth the Taos-Los Angeles contemporary art connection.
The many prominent East and West Coast artists represented in this gift speak to the strong connection that Taos has long had with the national and international art worlds. Artists Ken Price and Larry Bell moved permanently from Los Angeles to Taos in the 1970s, followed by Ron Cooper, Gus Foster and – later – Ron Davis. Other artists such as Lee Mullican spent part of each year in Taos. The collection also demonstrates Foster's commitment to artists who working In Taos including Angie Coleman, Tom Dixon, Cody Riddle, and Suzanne Wiggin.
Learn more about Larry Bell, Ronald Davis and Ken Price in our Contemporary Collection
Learn More
With the perspective of a former museum curator, a collector, and an artist, Gus Foster is an extraordinary connoisseur whose collecting since the 1980s culminated with the gift of 391 works by 83 artists, each with a connection to Taos. The gift of the Gus Foster Collection to the Harwood Museum of Art speaks to Foster's lifelong engagement with the arts. As he recalls, "My father was an architect and my mother was an interior designer, and aesthetics was part of the daily conversation when I was young." Foster is committed to bringing art into the lives of Northern New Mexico's youth, stating that "Providing ways for children and youth to expand their creativity is critical. Many people are unaccustomed to art, but if you enter a museum when art is just another part of your daily life, if you see it as a child, it is not so strange. If you begin that process early, then by the time you are an adult, it becomes easier."
In addition to its historical significance, the collection has another important dimension. "Of the more than three hundred pieces, only three or four were done by people that I didn't know personally," Foster said. "I have seen and followed their careers as friends and neighbors for over four decades, and that gives you some insight into their creative process. Though my work is not part of this gift, all of these works have informed my own vision. "Foster is well known for his spectacular 360 degree photographs that have been exhibited throughout the world, and
that often show thousands of square miles of landscape. Prior to embarking on his photographic career, Foster earned a degree at Yale in art history and spent over a decade as a curator at the Minneapolis Institute of Arts.
Reflecting on the importance of this gift, Gus Foster states that "The lifeblood of a museum is the support it gets by gifts and bequests. At the time, "His gift expand[ed] the Harwood's collection by about ten percent, and is the biggest single gift of art work since Burt and Lucy Harwood provided their founding collection in 1923.
Marylou Reifsnyder Collection
Marylou Reifsnyder (1922-1990), a virtually self-taught artist, created thousands of paintings, drawings, poems, toys, carvings and books over a thirty-year period. Reifsnyder was drawn to a variety of mystical philosophies. She studied the images of ancient mythology, medieval alchemy, tarot, astrology, Christian theology, and the cosmic fables of William Blake.
A major portion of the Harwood's Reifsnyder Collection includes The Picture Book of Days which is a set of mixed media works created by the artist from 1967- 1968. Many of the iIllustrations were derived from "automatic" drawings. In automatic drawing, the hand is allowed to move randomly, rather than deliberately, across the paper. Hence the drawing produced may be attributed in part to the subconscious. It was thought by some spiritualists that automatic drawings were created by spirits acting through the artist's body.