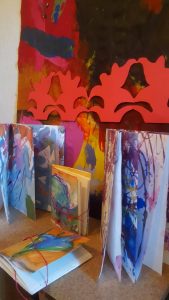 Join our dedicated team of volunteers who generously give their time and talent to further the Harwood Museum of Art's mission. We offer volunteers the opportunity to make new friends, gain exposure to the inner workings of a premier museum, learn new skills, serve the Taos visitors and community members, and contribute to the historic artistic legacy of the unique Taos community.
We seek volunteers to support administrative functions of the museum, fundraising, public programs, education, collections, and serve as Harwood Guides leading public tours.
Ready to volunteer? Fill out this volunteer questionnaire and email it to volunteer@harwoodmuseum.org. There may be a waiting list for some opportunities. A background check is required for all education volunteer opportunities.
To learn more about the Harwood Guide program and summer training, register to attend our volunteer open house on June 28 at 5:30pm… Learn More >
Events
Meet people and welcome our guests. Events at the Harwood are our most popular volunteer opportunity. They include private VIP opening receptions, member-only events, community events like Lighting Ledoux and fundraising events.
Opportunities include:
· Greeters / Check- in
· Gallery Guards: Protecting the art during events is one of our most important volunteer duties. Gallery guards remind people to not bring food into galleries nor get too close to the art. As a gallery guard you must be alert and comfortable directing guests. This job usually involves standing for extended periods of time.
· Guest Tracking: Getting an accurate guest count is valuable for crowd control and data gathering needed for grants. This duty involves standing or sitting at the entrance of the event with a clicker to count how many people attend the event. This job may involve standing or sitting for extended periods of time and requires focus to ensure an accurate count.
· Bar Support: Our licensed wine pourers often need support with setting up the bar, managing wine glasses during an event and cleaning up after the event. This can be a physical task that requires lifting cases of wine and other beverages, bending and walking. If you have a server's license, please let us know.
· Set up and teardown: Before and after each event, tables must be set up or folded, chairs arranged or stacked. There are guestlists, signs, name tags and other documents to be managed. These tasks can involve some heavy lifting and carrying.
· Event Support: Many fundraising events require extensive preparation and follow-up. Tasks include data entry, mail merge, spreadsheet management and packet creation. These duties requires significant training, therefore a longer-term commitment is preferred.
Marketing
Help tell the Harwood story. Volunteer opportunities include helping with graphic design, locating and documenting online ads and articles about the Harwood, helping with brochure and flyer distribution, compiling press clippings, uploading events to online calendars, and helping implement membership and volunteer recruitment strategies.
Administration
Support the Harwood staff. Volunteers can provide valuable support to staff with simple jobs such as updating Excel spreadsheets or Contact Management data entry, preparing mail merges and helping with annual fundraising mailings and membership initiatives. These volunteers must be accurate and detail oriented. For some duties training and a more consistent commitment is required.
Education Programs
Work with children. Each year the Harwood hosts thousands of visits by children attending programs like Art in the Schools for Pre-K through 8th grade students during the school year, Community and Family Days seasonally, and Art Exploration Workshops during the summer months. Opportunities include program supervision, prepping materials, studio maintenance, program evaluation, curriculum research, organization of supplies and projects, posting flyers, and much more. No experience is necessary, just a love of working with children. A background check may be required.
Docent Programs
Enhance visitor experience. Our docents are a critical part of our visitors' experience, our museum's interpretive mission and our educational goals. Docents help visitors have a much deeper experience by understanding and interpreting the art rather than just looking at it. Docents teach people about the context and the history of the art on exhibit.
Our docents are required to complete an extensive training program so we can ensure they provide information that is accurate and skillfully delivered. Please email education@harwoodmuseum.org if you are interested in learning more or becoming a docent. 
Gardening
Our gardens were a favorite place for Lucy Harwood. Today, some of the same trees she planted have grown many feet high since she sipped tea on her front porch. Volunteers have the opportunity to help us keep the gardens weeded, refreshed and ready to please our thousands of guests. These duties can involve lifting, kneeling, and bending.
Internships
Build your museum career.The Harwood offers internships opportunities for students in its curatorial, marketing, fundraising, and education departments. Please see our internship application.
We regret that the museum is unable to provide assistance with transportation or housing arrangements. However, if you're the right candidate we'll make sure that you have a fantastic internship experience! For more information contact the museum at info@harwoodmuseum.org.

A Description of Each Internship:
Curatorial
The Harwood's Curatorial area seeks an intern to perform research related to permanent collections and exhibitions, and to assist with collection management functions.  Art history background desired, along with strong research and organizational skills.
Digital Photographer
The Harwood's Curatorial area seeks an intern to digitally document objects from the museum's collection.  The intern should have skill in photography and digital media.  Duties will include creating low-resolution (for internal use) and high-resolution (for external use) images for selected collection objects.  Art handling training will be provided.  Prior experience with museum collections desirable, but not necessary.
Education
The Harwood's Education area seeks an intern to provide assistance with educational programs.  Duties will include providing assistance during classes, participating in program evaluation, compiling data for grant reports, developing curriculum, and providing general support to the Curator of Education and Public Programs.  The intern must be available during program times, which are typically during the latter part of the week and on Saturdays.
Fundraising & Events
The Harwood's Development area seeks an intern to research potential funding sources (foundations, corporations, individuals, public sources); to assist with preparing, submitting and tracking inquiries and proposals to funding entities; to assist with planning and coordinating donor events; to perform data entry and other administrative duties as needed; and to perform other duties based on intern interest areas and museum needs.  Desired skills include strong writing and research skills, proficiency in Microsoft Office, and effective interpersonal skills.  Experience with databases a plus, as are skills in graphic design and layout.