CA/T 2020  is a juried exhibition of artists currently living and working in Taos county or with deep roots in Northern New Mexico.  313 artists submitted entries, showing outstanding talent and skill. 24 were selected for this exhibition.
Taos has long been known as a place where artists source creative inspiration and hunker down in their studios, building bodies of work that may never be shown here even if they are displayed in New York, L.A. London and beyond. Selected on a mix of creative expression, technical skill and innovation, this exhibition gives the selected artists the opportunity to show their work here at home.
As Taos launches into the next decade, CA/T 2020 will serve as a litmus test of the living Taos Art Colony.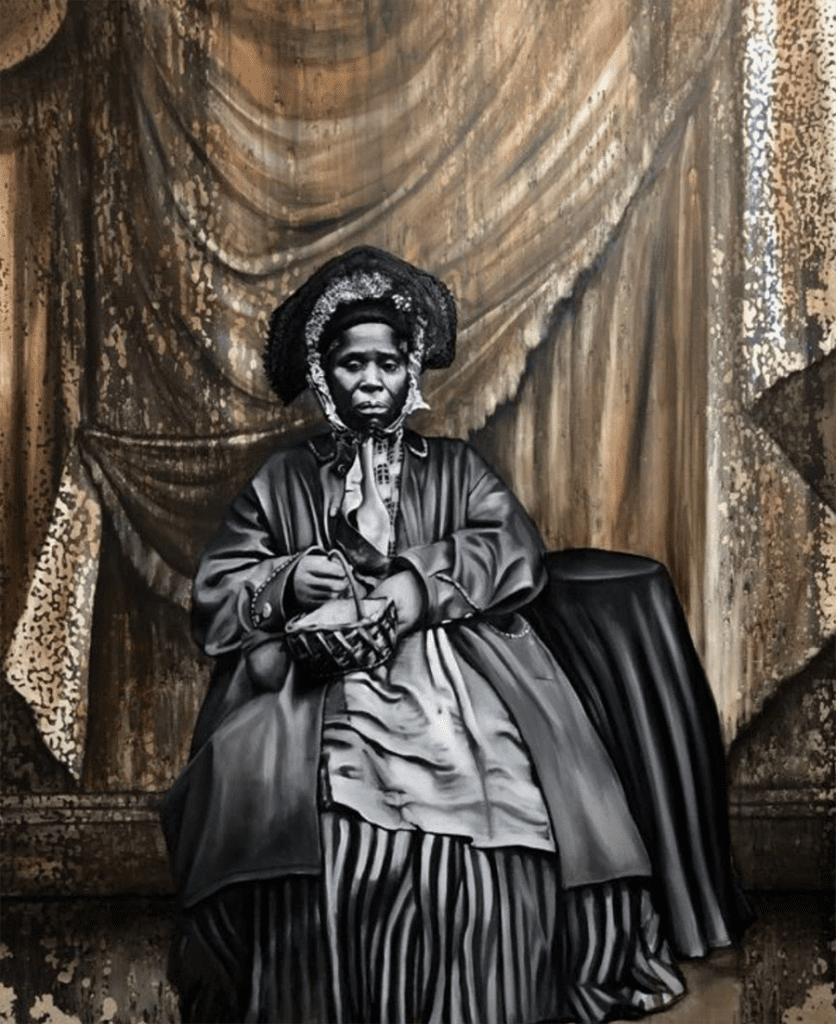 nikesha-breeze-anyonymous-american-woman-and-basket
Nikesha Breeze, [Anonymous African American Woman and Basket; 1856], 2020, Oil on canvas with cold-cast bronze frame
Process:
The call to artists was open to any artist living and working in Taos county as well as to those who may have moved away but have deep roots in the area. 313 artists submitted works, proof of the richness of our creative culture.
The jury consisted of Harwood Museum of Art's (then) new Curator, Nicole Dial-Kay and two invited curators from outside of the state of New Mexico, Douglas Dreishpoon and Dakota Hoska. They had the difficult job of narrowing the 313 entries down to only 24 artists.
Criteria:
• Demonstrated dedication to their studio practice
• Demonstrated success with their art career as shown by CV
• Commitment to artwork as demonstrated through CV and Artist Bio
• Aesthetics
• Artistic skill in technique or medium
• Strength of concept behind works
• Strength in relevance of work
• Innovation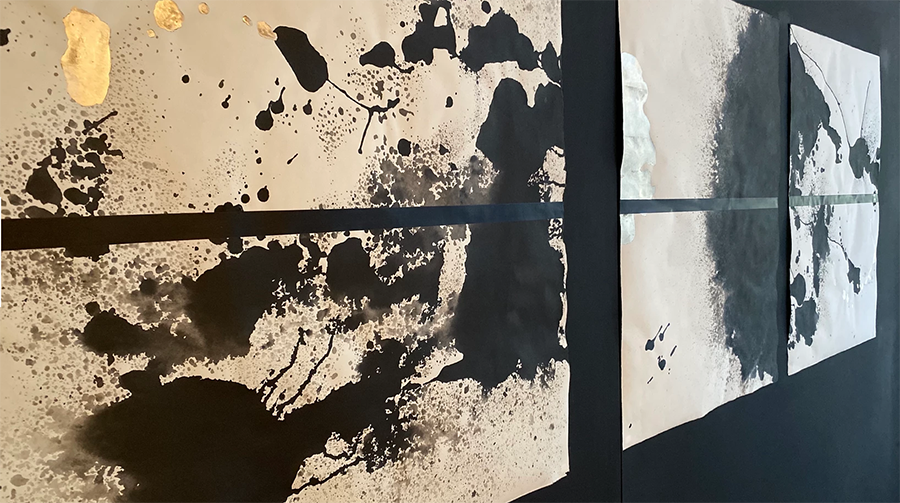 Solange Roberdeau, World Through the Body/Body Through the World (1-6), 2020, Graphite, sumi ink, acrylic on shiramine paper
CA/T 2020 Jury:
Douglas Dreishpoon – Art historian, curator, and critic, Douglas Dreishpoon is Director of Catalogue Raisonné at the Helen Frankenthaler Foundation in New York City and Chief Curator Emeritus at the Albright-Knox Art Gallery in Buffalo, New York. His essays, interviews, and reviews have appeared in numerous magazines and journals, including Art in America, Art Journal, Art News, Archives of American Art Journal, Sculpture, and The Brooklyn Rail. Dreishpoon holds a PhD from the Graduate Center of the City University of New York.
Dakota Hoska – Dakota Hoska, is an enrolled member of the Oglála Lakȟóta Nation located on Pine Ridge reservation. She is currently the Assistant Curator of Native Arts for the Denver Art Museum. Dakota completed her MA in Art History, focusing on Native American Art History at the University of St. Thomas, St. Paul, MN (2019), completed two years of Dakhóta language classes at the University of Minnesota (2016), and received her BFA in Drawing and Painting from the Minneapolis College of Art and Design (2012).
Nicole Dial-Kay – Dial-Kay is the Harwood's Curator of Exhibitions and Collections. She was formerly the senior director of arts and programming at Breckenridge Creative Arts.  She has also worked with the Boulder Museum of Contemporary Art, CU Art Museum, the Denver Art Museum and Pratt Museum in Homer, Alaska. She earned degrees from the University of Colorado Boulder, the University of Missouri and Southern Illinois University.
Selected artists:
Monique Belitz
Nikesha Breeze
Kathleen Brennan
Lynnette Haozous
Sarah Hart
Katy Kidd
Afton Love
Terrie Mangat
Gray Mercer
Patricia Michaels
Paul O'Connor
Jess Peri
Dean Pulver
Sean Ratliff
Solange Roberdeau
Anita Rodriguez
Maria Samora
Jan Sessler
Brian Shields
Nina Silfverberg
Sarah Stolar
J. Matthew Thomas
Izumi Yokoyama
Sasha vom Dorp