Harwood Museum Centennial
The Harwood Museum Centennial creates a moment to reflect on our legacy, a chance to share a deeper understanding of our past, an opportunity to uplift the lesser-known stories from our diverse communities, and an intention to build a vibrant and creative future.
The Centennial will be a survey of the museum through time, the history of the town to which it is so central, and the role that art from Taos and its surroundings played in the larger artistic movements of the last century. Through unique historic and contemporary exhibition vignettes, never-before-seen programming, and celebratory events, the Centennial is a dynamic chance for guests to understand the evolution of one of the Southwest's oldest museums.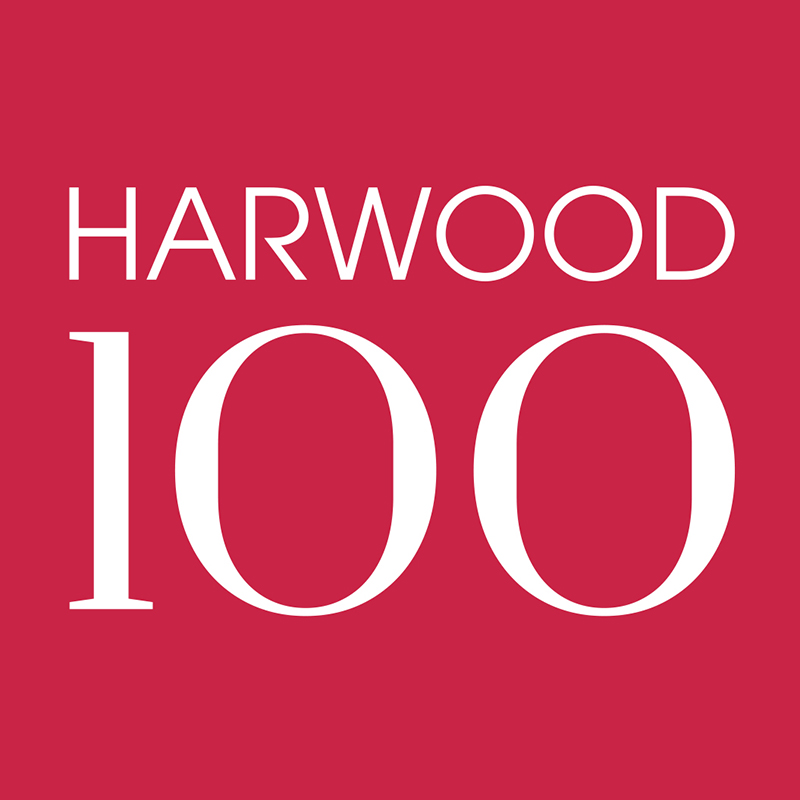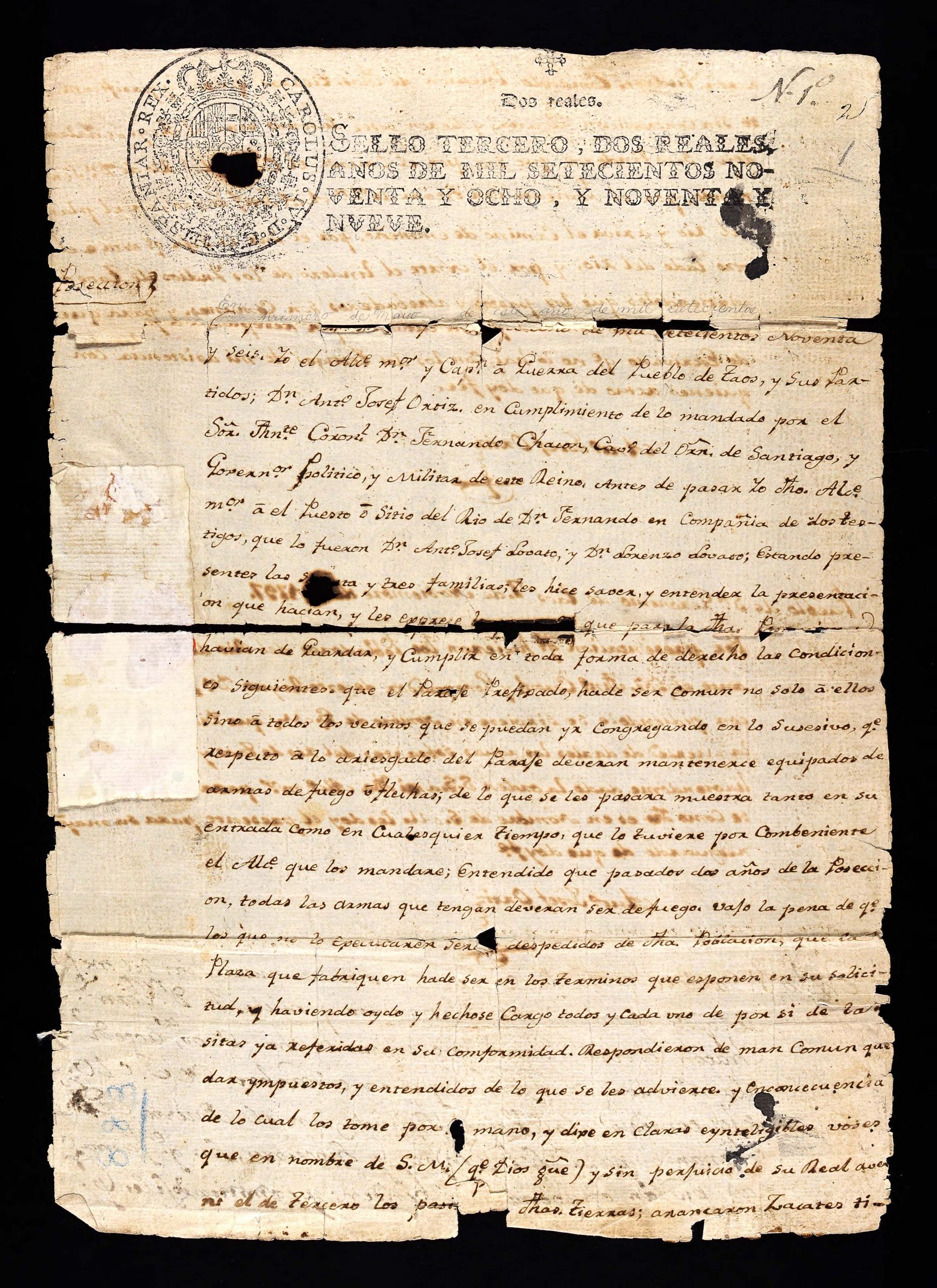 Land History
Mapping the land history of the Harwood—from the Taos Pueblo to Spanish occupation and the Don Fernando de Taos land grant to U.S. Army Captain Smith H. Simpson and, finally, to Burt and Lucy Harwood—is an expression of gratitude and appreciation to former and present-day caretakers. It is an act that acknowledges the Indigenous people who have been living and working on the lands of Taos from time immemorial.
The Harwood Museum of Art resides on the occupied Indigenous land we call Taos, made up of the unceded ancestral territories of Taos Pueblo, Diné/Navajo, Ute, Jicarilla Apache, Kiowa, and Comanche peoples. Taos Pueblo, home to the original inhabitants of this territory, is one of the oldest continuously inhabited communities in North America.
Burt and Lucy Harwood
Before moving west, Elihu Burritt "Burt" Harwood and Elizabeth Lucy Case were born into wealthy Midwestern families. Burt (b. 1885, Charles City, Iowa) began his career as a photographer, acting as senior partner at Harwood and Mooney Photography in Charles City, Iowa from 1873—1882. He switched mediums and studied painting at the Art Students League in New York City, before enrolling at the Académie Julian in Paris, France. Burt returned home to create two art academies in Minneapolis and Saint Paul in 1888. It was while enrolled at Burt's Academy of Drawing and Painting in Minneapolis that Lucy met Burt and they fell in love as student and teacher.
Lucy (b. 1867, Bradford, Iowa), known for her daring and adventurous spirit, had traveled extensively as a young girl. After attending Vassar College's art school, followed by Burt's art academy, Lucy married Burt in 1896 and left on a honeymoon to Paris—which would last over two decades. While in France, Burt enrolled at the Académie Julian once more and likely met other American expatriate artists studying abroad, like Ernest Leonard Blumenschein and Bert Geer Phillips, who may have swayed him to visit Taos.
With the onset of World War I, many American artists returned home. The Harwoods stayed briefly to help establish a hospital in Brittany and to collaborate with the Red Cross, but by 1916 they moved back to the United States. This same year, the Harwoods made their first trip to New Mexico and purchased a home on Ledoux Street. They dreamed of recreating the cultural hotspots they had visited in Paris and New York, and envisioned their newly-renovated home as a meeting place for the town. For years, their property would serve as an art gallery, artists' quarters, and community library in Taos.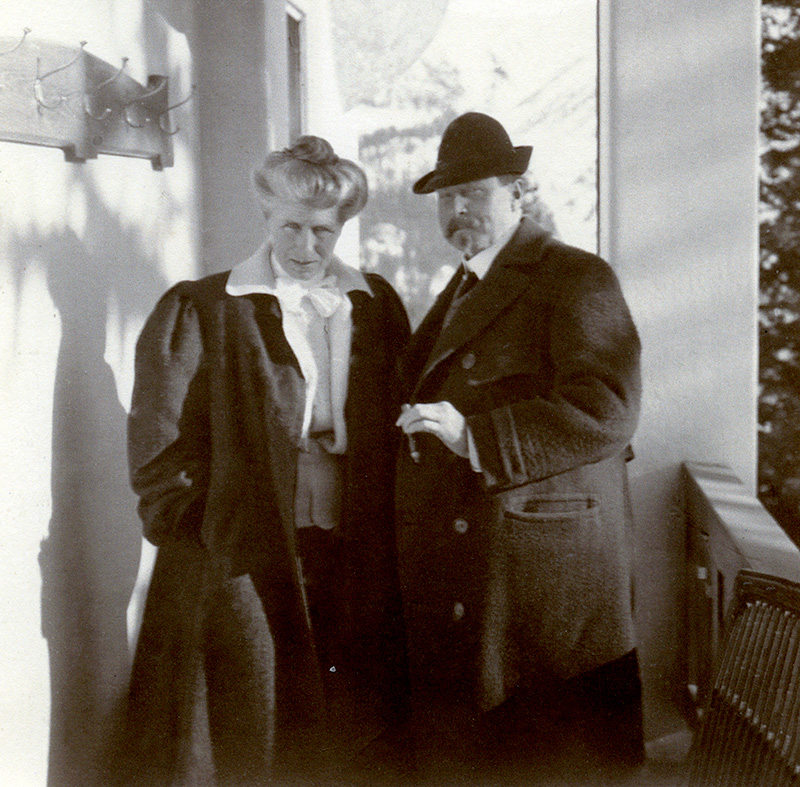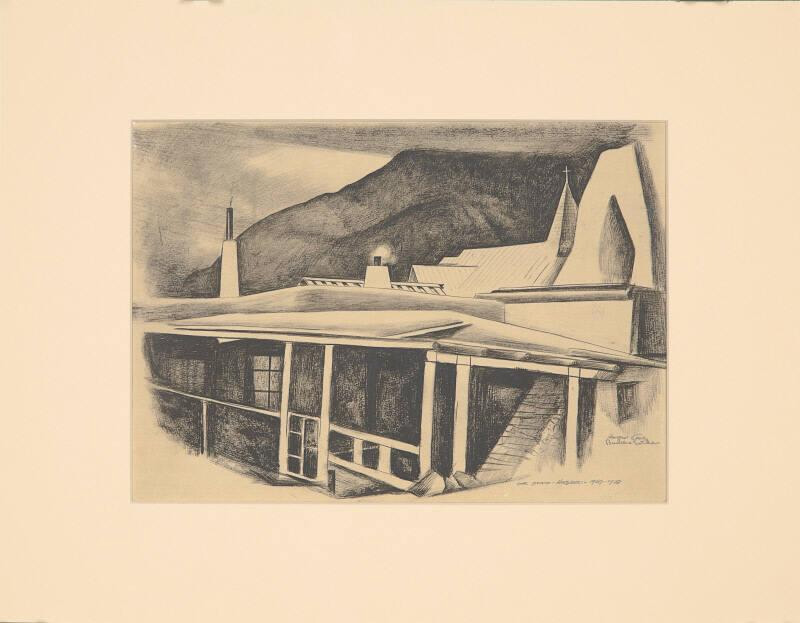 Harwood Foundation
The Centennial celebration marks the year (1923) that Elizabeth "Lucy" Case Harwood incorporated the Harwood Foundation, which she and the late Elihu Burritt "Burt" Harwood had developed into an art salon, studio, and lodging house. When the property was gifted to the University of New Mexico in 1936, the deed of conveyance specified that "said property shall remain the property of the University of New Mexico in perpetuity and shall be kept intact in Taos, N.M., by the University and utilized as an educational, cultural, and art center in connection with the University."
First Library
Even as the Harwood established its reputation as a fine art institution, it doubled as Taos's only public library for over sixty years. When Lucy Harwood realized the town did not have a library, she began offering her personal book collection as a lending library on the front porch. This library became a gathering place for artists and residents, and it developed steadily thanks to donations. Mabel Dodge Luhan contributed significantly to the new library with her personal collection of rare and popular books, many gifts from the esteemed authors themselves, and a monthly book order from Sunwise Turn, the only female-run bookstore in New York City.
The primary function of the Harwood was as the town's public library until 1996 when the Town of Taos purchased a new building and took over library operations. Many in the community hold cherished memories of reading books on the porch and in the cozy corners of the Harwood library.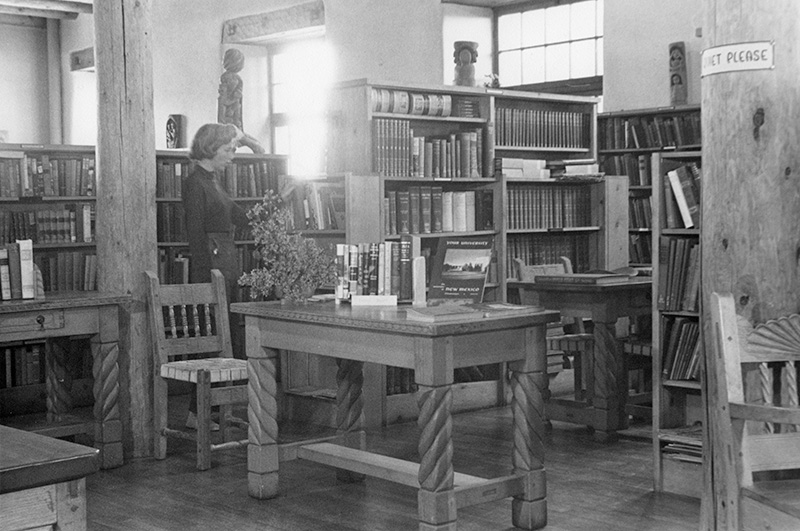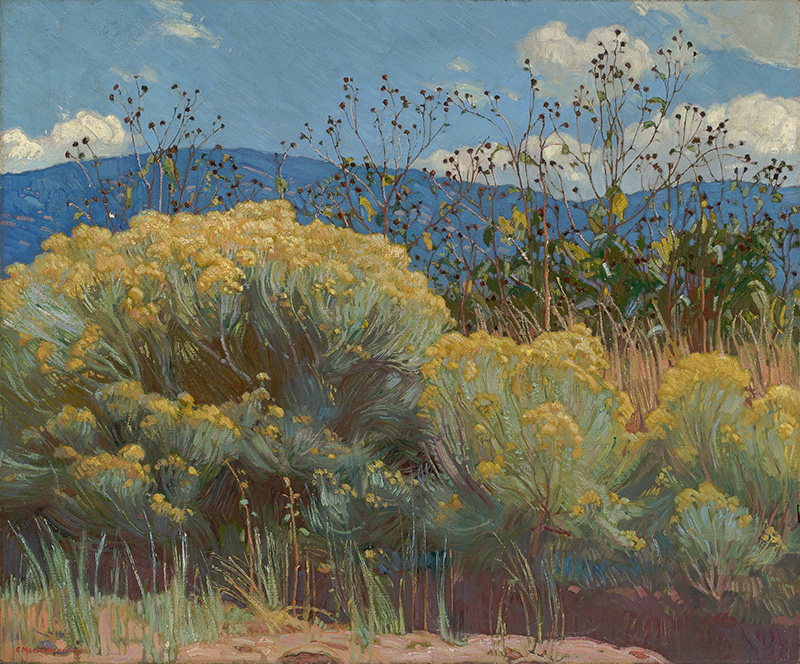 Art Gallery
In 1924, the first art exhibition featuring Taos artists was held at the Harwood. Because there were so few artists in Taos in the 1920s, virtually any resident who wished to could exhibit there. The roster of artists exhibiting at the Harwood that year included well-known as well as obscure and amateur artists, bringing enthusiastic visitorship from locals and travelers alike.
The first exhibition with an archived artist list took place in 1926 and included: Kenneth Adams, Oscar Edmund Berninghaus, Ernest Leonard Blumenschein, Eanger Irving Couse, Catharine Critcher, William Herbert "Buck" Dunton, Victor Higgins, Ernest Martin Hennings, Bert Geer Phillips, Joseph Henry Sharp, and Walter Ufer. The Art Committee curating exhibitions at that time included Blumenschein, Couse, Critcher, Dunton, and Ufer.
Taos County Project
Funded by the Carnegie Corporation and backed by the Works Progress Administration (WPA), the Taos County Project was an experimental project in cooperative county planning headquartered at the Harwood Foundation from 1940—1943. Its purpose was to galvanize community action to address agricultural, irrigational, medical, and educational concerns across the region.
Meetings were held monthly at the Harwood Foundation in both English and Spanish, with participation from all 31 communities across the county. This local group of changemakers helped advocate for a bookmobile, monumental improvements in health, farming, and water safety, and educational and occupational trainings for youth.
To encourage handicraft trainings among young people, two craft shops under sponsorship of the National Youth Administration (NYA) were created: a woodshop and tinworking studio, and a weaving shop. Local NYA participants were hired by the Harwood Foundation to build a portal, garage, and clubroom; landscape the south side courtyard; and construct a suite of furniture and drapery for the entire building.
This suite, rooted in Hispanic furniture-making traditions, is a treasure of the Harwood Museum of Art. It includes seventy-one chairs, twenty-one tables, three trasteros, four benches, and tinwork chandeliers, all originally placed throughout the building and still used by museum staff today.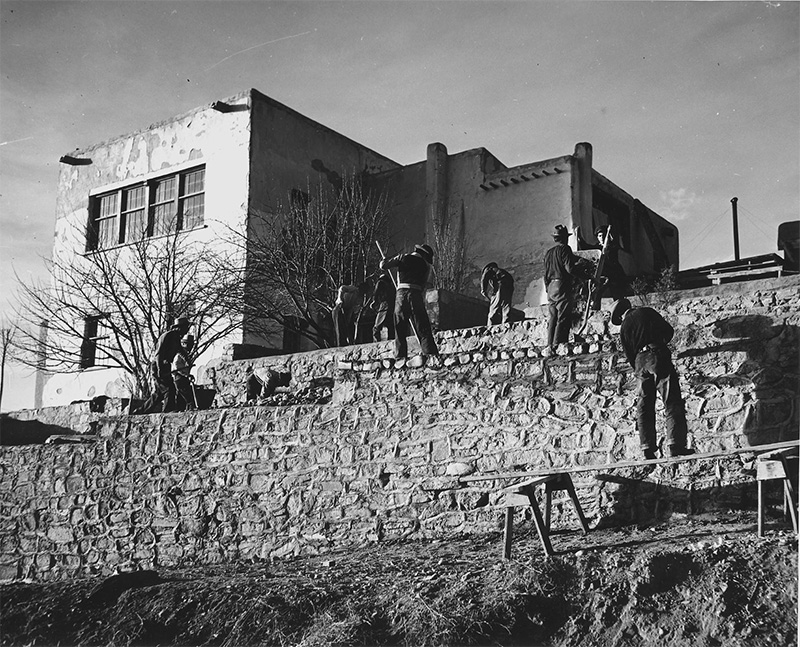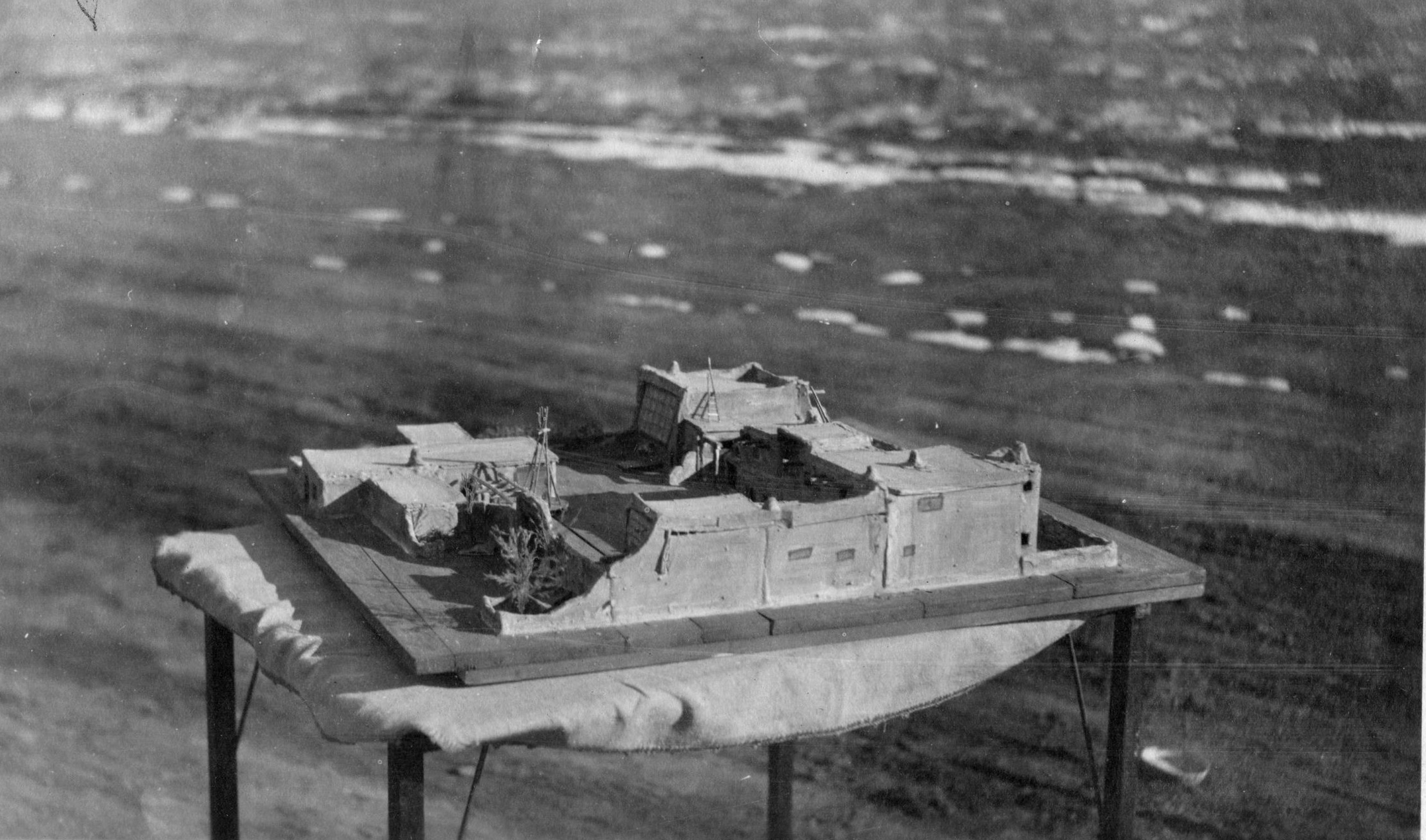 John Gaw Meem
As part of a cooperative effort between UNM and the Works Progress Administration (WPA), architect John Gaw Meem began planning a Harwood expansion in 1936. Meem was an architect located in Santa Fe, New Mexico, who designed some of the most recognizable structures on UNM's main campus. He accomplished this by mixing the traditional techniques of adobe homes with the new methods of steel and concrete construction.
Over the course of his thirty-five-year career, his firm accomplished more than six hundred commissioned projects, and he built a reputation as one of the most notable architects in the Pueblo-Spanish Revival style. Despite his involvement in several other larger projects, Meem was intimately involved in the design of the Harwood expansion.
Bookmobile
The Taos County Project, started by the Carnegie Corporation and backed by the WPA in the 1940s, brought a bookmobile to Taos County. Operating out of the Harwood, the bookmobile—a red bus equipped with bookshelves, books in Spanish and English, and a portable movie projector—was beloved by the community. School was let out when the bookmobile entered a county town, and entire villages would gather around the bus for its variety of literature and film.
Some of the communities, isolated in the narrow canyons of the Sangre de Cristo Mountains, were difficult to reach with the bookmobile, especially during the winter months. Regardless, the bookmobile operated on a regular schedule of visits—at least once a month, rain or shine. After the conclusion of the Taos County Project, counties found independent funding to keep the bookmobile running out of the Harwood Foundation building until the mid-1950s.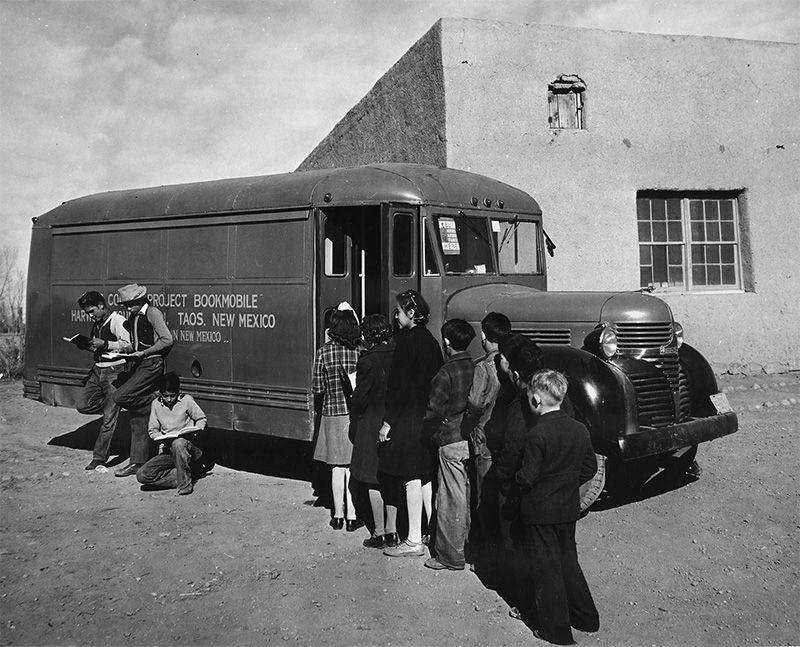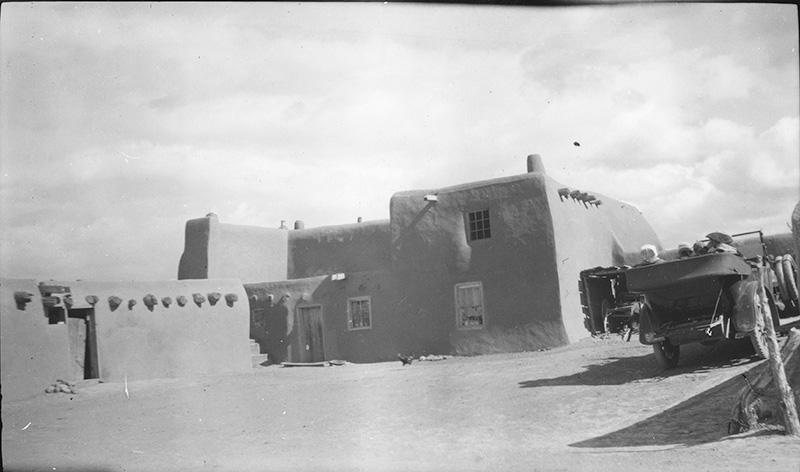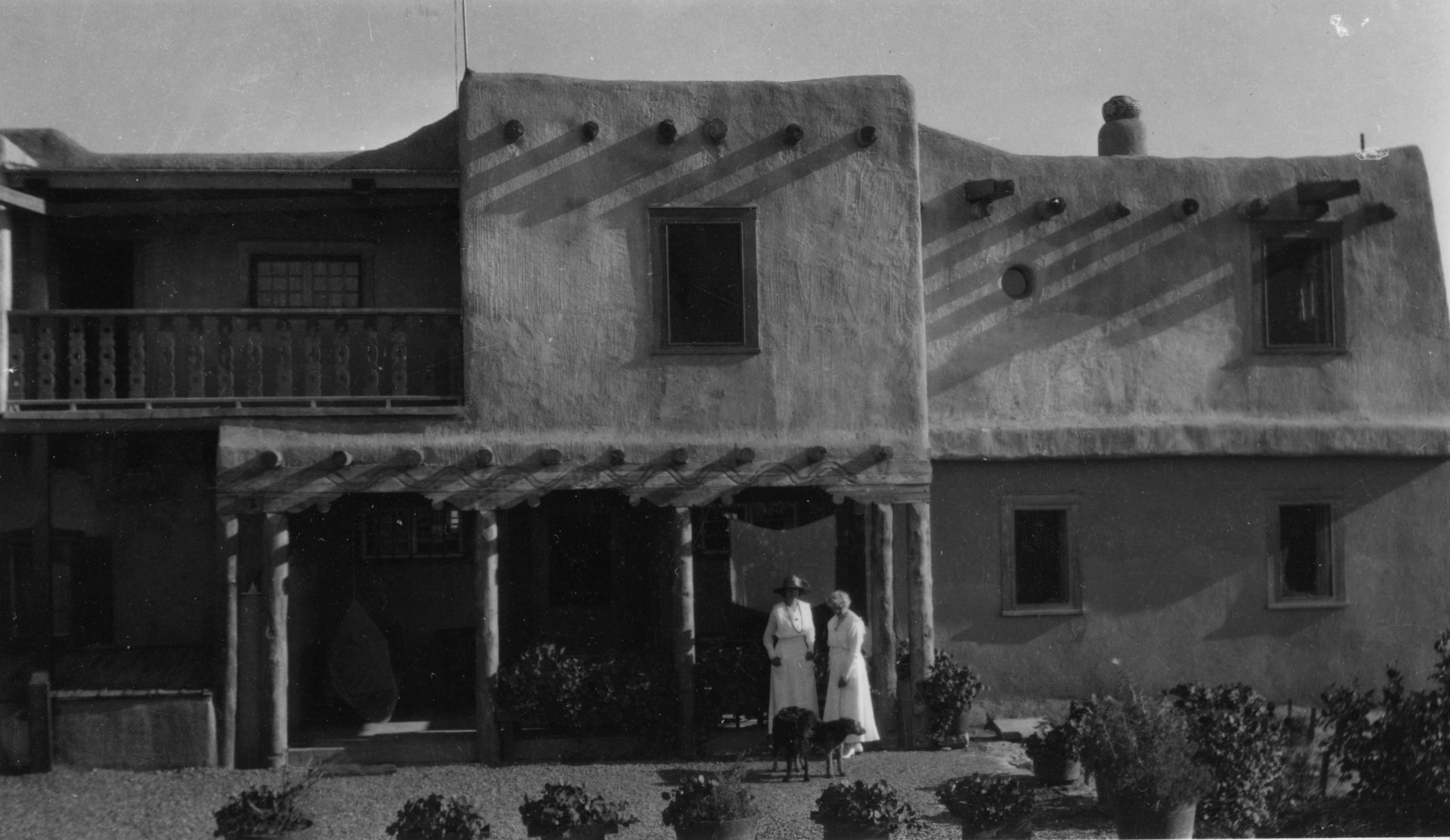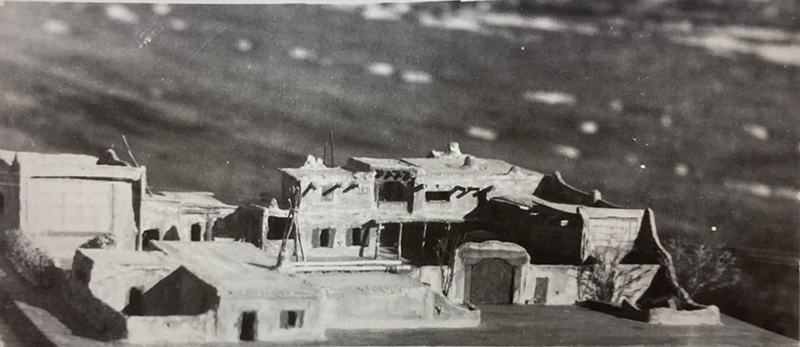 Architecture
The architectural marvels of the Harwood building merit recognition. Over the decades, the Harwood has undergone continual repairs and upgrades to better suit the needs of the community, the changing functions of the museum, and the long-term care of its collection.
Smith H. Simpson (1861–1916)
The Harwood's oldest sections were created circa 1813, with its appearance much like other early Hispanic and Anglo pioneer settlers' residences that were small, built of adobe and wood, and had very few windows. Captain Smith Simpson bought the property in 1861 and left it to his heirs, who sold it to Burt and Lucy Harwood for $1,200 in December 1916.
Burt & Lucy Harwood (1916–1922)
Upon buying the Simpson property, Burt Harwood hired Abe Bowring to remodel and extend the original house. "El Pueblito," as the Harwood residence came to be known, was a pioneering example of the Pueblo-Spanish Revival style, incorporated features from the then-popular Arts and Crafts style, and was a romantic attempt to imitate the Taos Pueblo's hand-built and stepped adobe shapes.
UNM & The John Gaw Meem Expansion
(1935–1938)
Lucy Harwood gifted the Harwood Foundation to the University of New Mexico on November 8, 1935. One year later, as part of a cooperative effort between UNM and the Works Progress Administration, architect John Gaw Meem began planning a Harwood expansion that would include a two-story extension, library, and auditorium.
Meem was an architect located in Santa Fe who became famous for mixing traditional techniques of adobe-home building with new methods of steel and concrete construction.
UNM Field School of Art
The Summer Field School of Art (Field School), was a University of New Mexico program that took place at the Harwood Museum of Art beginning in 1929 and continuing until 1956. This relationship was established even before Lucy Harwood officially gifted the museum to the university in 1935.
For much of the Field School's history, students were housed at the Harwood in the Alcalde Building, which also served as class headquarters. Students spent their time venturing to mountains and picturesque valleys to paint en plein air while guided by visiting artists and critics. The list of artists and influential people that led, taught at, or attended the Field School is a testament to the magic that unfurled in these summer semesters. Visiting artists and critics include Kenneth Adams, Emil Bisttram, Oscar Edmund Berninghaus, Ernest Leonard Blumenschein, Victor Higgins, Joseph Henry Sharp, and Andrew Dasburg; prominent students enrolled at the Field School include abstract expressionist-pioneer Agnes Martin and Taos Moderns painting and printmaker Earl Stroh.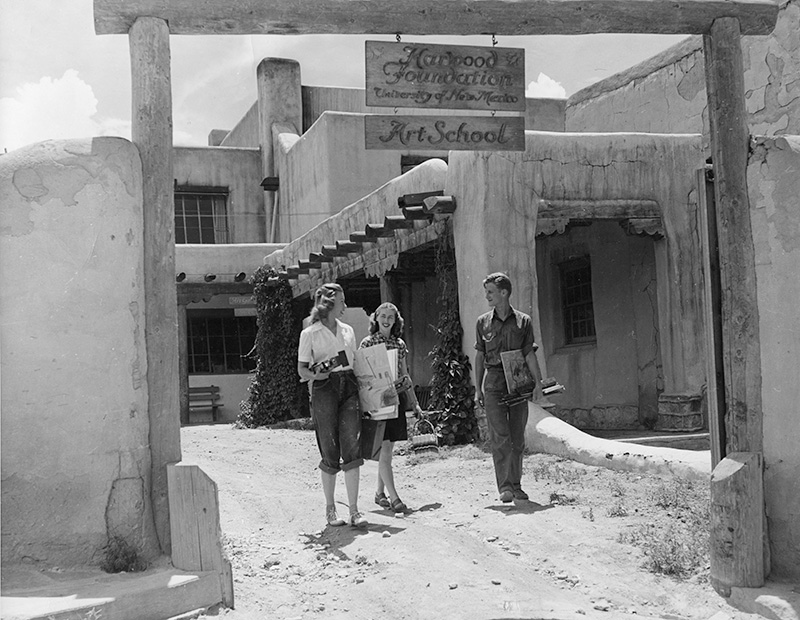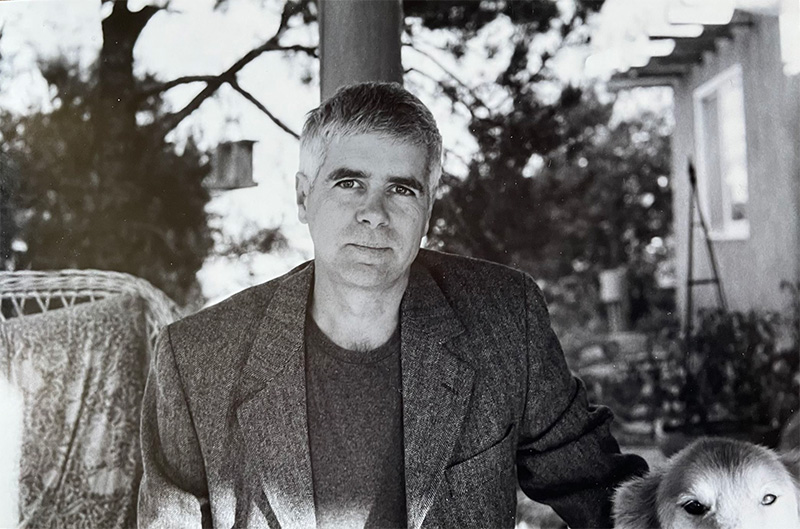 David Witt
The Harwood's first official curator, David Witt, was hired at the Harwood Foundation in 1979. Witt initiated the first cataloguing system for the permanent collection, began the Harwood Museum of Art Archives—which house some of the most important historical documents and photographs of Taos County—and created professional and safe storage options for the museum.
Most importantly, Witt created a curatorial focus that would direct the future course of the Harwood as an art museum. Witt was tasked by influential Taos artist Beatrice Mandelman with being a spokesperson for the generation of artists who came to the community after World War II. In working with this group of artists, Witt first coined the term "Taos Moderns" in his publication of the same name. This book, in conjunction with the Moderns-focused exhibition schedule, jump-started the Harwood Foundation to embrace this wave of artists, creating a platform for a local art movement that would forever change Taos.
Robert M. "Bob" Ellis
Robert M. Ellis, former Director of the University of New Mexico Art Museum and Jonson Gallery, was another asset in developing the Harwood as an art museum. He served as a leader for the Harwood from 1987 until 2001, boldly transforming the regional art gallery space into a world-class museum. Ellis pushed to expand the two-room art gallery and public library into seven galleries for hanging art; install new heating, ventilation, and air conditioning units; add new electrical wiring and security systems; and create a parking lot. A massive fundraising campaign was undertaken, resulting in the naming of many of the Harwood's current galleries.
With little budget for exhibitions, Ellis relied on his contacts from his previously held position as Curator of Education at the Pasadena Museum of Art to exhibit leading contemporary artists like Chuck Close and Jasper Johns. He also exhibited the prominent group of artists that relocated from Los Angeles to Taos between 1970 and 1990, including Larry Bell, Ron Cooper, Ronald Davis, Ken Price, and Robert Dean Stockwell.
Ellis's acquisition of seven paintings by the preeminent American artist Agnes Martin, Ellis's close friend and standing lunch date, along with the construction of the gallery where they are on permanent display, earned Ellis and the Harwood international acclaim.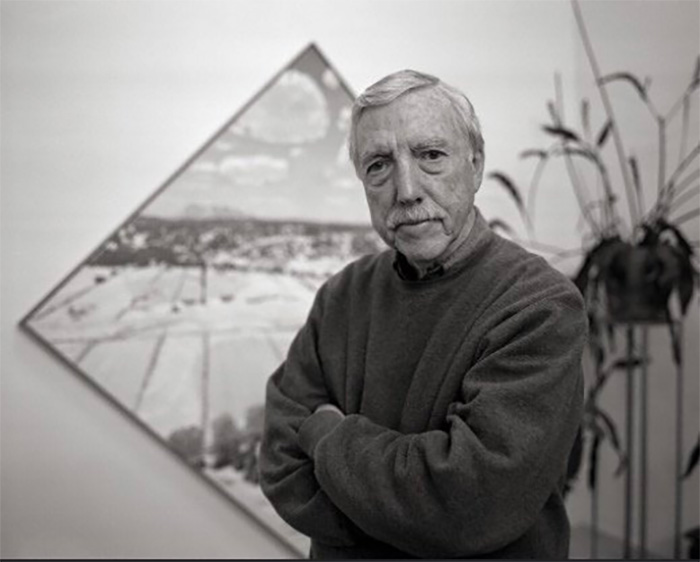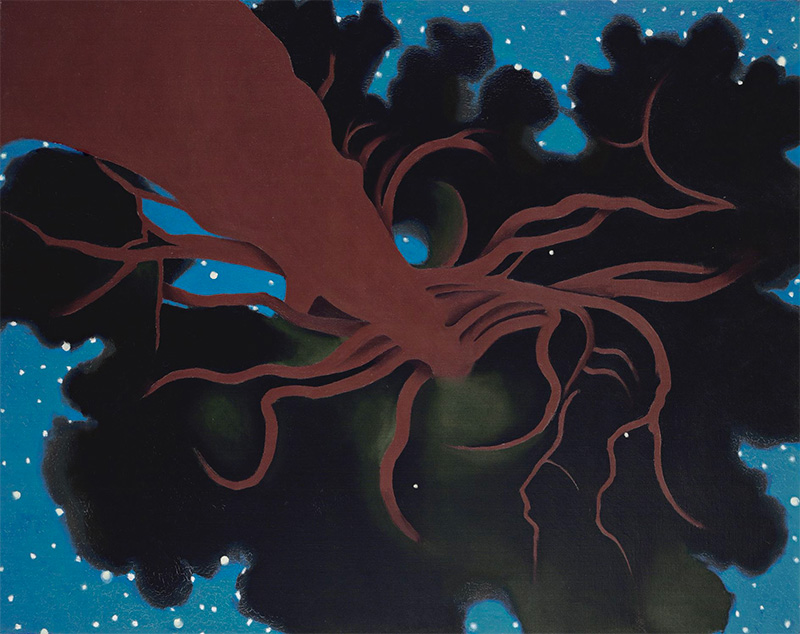 The World to Taos
The Harwood has an illustrious history of artists who have been critical to the institution for one hundred years. The first governing structures that worked side-by-side with Lucy Harwood were made up of the most significant artists of New Mexico at the time. In the following years, Western art legends would rotate in and out of the Harwood Museum of Art Board of Directors and its many committees.
The Harwoods envisioned their compound as a "Salon of the Southwest" that would offer an art exhibition space, library, community gathering space, and sleeping quarters for artists, authors, and aesthetes. The list of resident luminaries includes Ernest and Mary Blumenschein, who stayed with the Harwoods circa 1916—1919; the renowned modernist painter Marsden Hartley, who lodged onsite circa 1919; and Rebecca Salsbury (Strand) James, who hosted friend and legendary artist Georgia O'Keeffe in her Harwood summer apartment circa 1930.
Through its partnership with the UNM Summer Field School of Art, the Harwood hosted a bevy of influential artists and scholars from 1929 through 1956. Visiting artists and critics included Kenneth Adams, Emil Bisttram, Andrew Dasburg, and John Ward Lockwood. Two of the most prominent students to enroll at the Field School included abstract expressionist-pioneer Agnes Martin and painter and printmaker Earl Stroh.
Alongside the individuals who stayed, taught, or studied at the Harwood are the renowned artists who exhibited throughout the museum's history. American documentary photographer Margaret Bourke-White exhibited at the museum circa 1935; Elaine de Kooning, UNM Visiting Artist, showed her work in 1959. Other noteworthy exhibitors in Harwood history include Larry Bell, Judy Chicago, Chuck Close, Francesco Clemente, Richard Diebenkorn, Jasper Johns, Ken Price, Ed Ruscha, and Wayne Thiebaud.
For one hundred years, the Harwood has brought Taos arts to the world, and the world's arts to Taos.
Call to Artists
In December 2022, Harwood Museum of Art released a Call to Artists in pursuit of an original work of art for the Centennial Exhibition. The Call to Artists jury included Nicole Dial-Kay, Curator of Exhibitions + Collections, Gwendolyn Fernandez, Curator of Education + Public Programs, Juniper Manley, Executive Director, and Emily Santhanam, Curatorial Assistant from Harwood Museum of Art; and Victor Goler, Artist, Vernon Lujan, Deputy Tribal Programs Administrator, Taos Pueblo, and Ari Myers, Owner + Curator, The Valley. After much deliberation, the jury chose Seeds of the Future by Lynnette Haozous (Taos Pueblo/Chiricahua Apache/Diné) as the winning proposal.
"As a Native American artist from Taos Pueblo, I like to represent contemporary Native lifestyle, turning away from the often romanticized and fetishized versions made of us in earlier years. I like to paint portraits of Native people in their element today, living both in the modern world, while carrying on our traditions of thousands of years… This installation portrays three young Taos Pueblo women and a baby, spending time together and looking after the next generation—ensuring the future." — Lynnette Haozous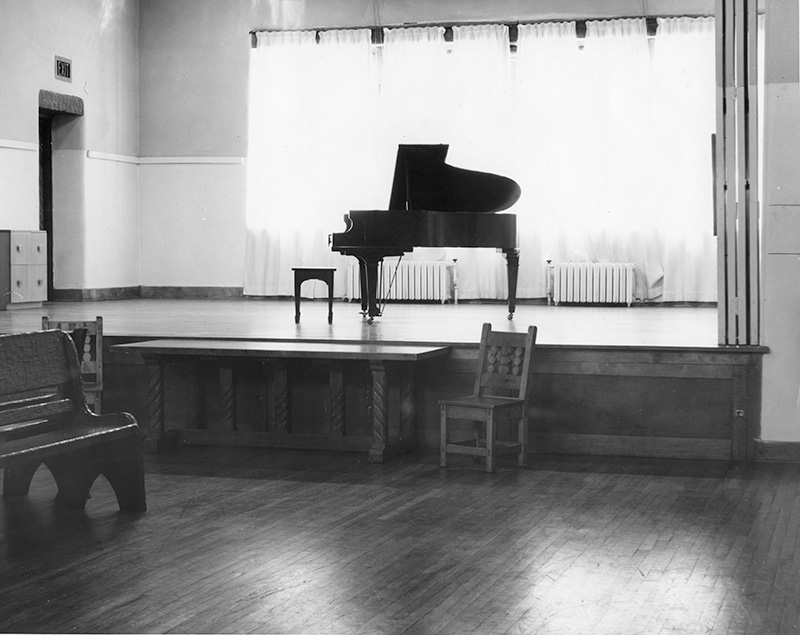 Theater
Architect John Gaw Meem completed a building expansion in 1938 that included a communal theater room on the second story. For over seventy years, this theater hosted hundreds of locally created performances and plays.
In the late 1940s, art students at Emil Bisttram's Taos School of Art wrote and performed in a community-based drama. In response, local theater enthusiasts formed the Little Theater of Taos, Inc (Little Theater). Early productions incorporated local directors and actors, while performances were held on the Harwood stage and at Taos High School. Director Otto Mears Pitcher joined the Little Theater in 1962 and helped elevate the company to a professional level. Among the plays performed in the 1950s and 1960s were The Women, Ghosts, and Winterset. Cited among the list of actors in the theater's history are Winnie Berninghaus and Spud Johnson.
When the Little Theater officially closed in 1979, programming in the Harwood theater continued. Musicals, dance performances, chamber music, poetry slams, recitals, and small to midsize theater productions were still housed at Harwood. Even when the stage was removed in 1996, performances remained in the open gallery space.
Mabel Dodge Luhan
Before arriving in Taos in 1917, Mabel Dodge Luhan was a prominent figure in New York City and Europe. Born to a wealthy family in Buffalo, New York, she entertained and inspired many artists, writers, and thinkers, including Georgia O'Keeffe and Willa Cather.
In the forty-five years that Luhan was affiliated with the Harwood, she gifted five Taos Moderns paintings, eighty-four devotional artworks of the Southern Colorado and Northern New Mexican Hispano saint-making tradition, twenty-one Persian and Indian miniatures, and thousands of books, including rare texts from Ansel Adams and D. H. Lawrence.
She also worked with the Taos Society of Artists to support Lucy in creating the Harwood Foundation. Luhan served on the original Harwood Board (1935), the first Advisory Committee, and the Library Committee (1936-1940). Even after concluding her officership, Luhan continued sharing her art, books, and strong opinions with the Harwood.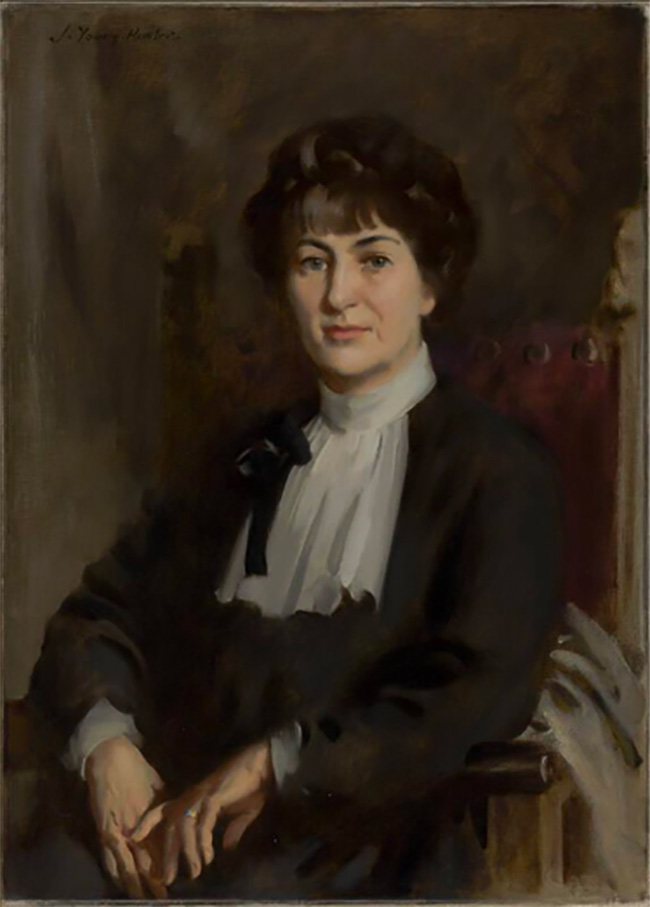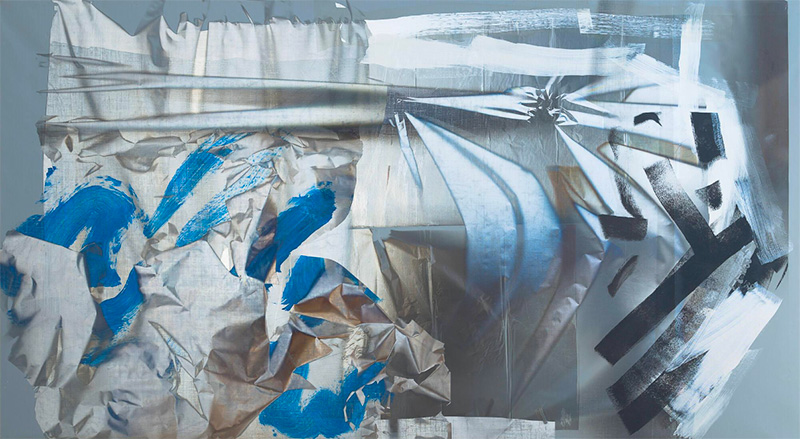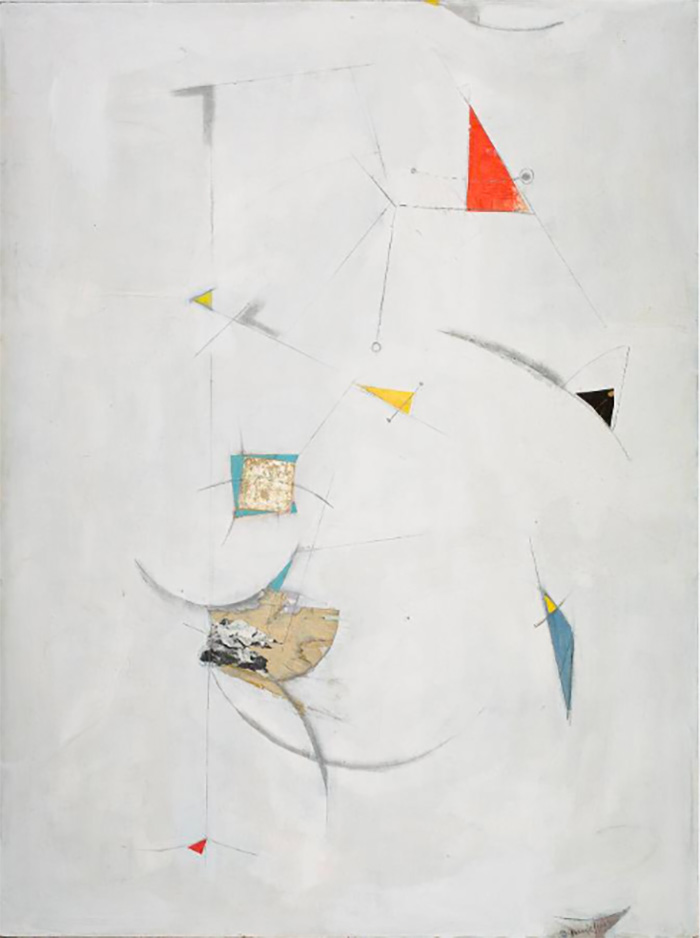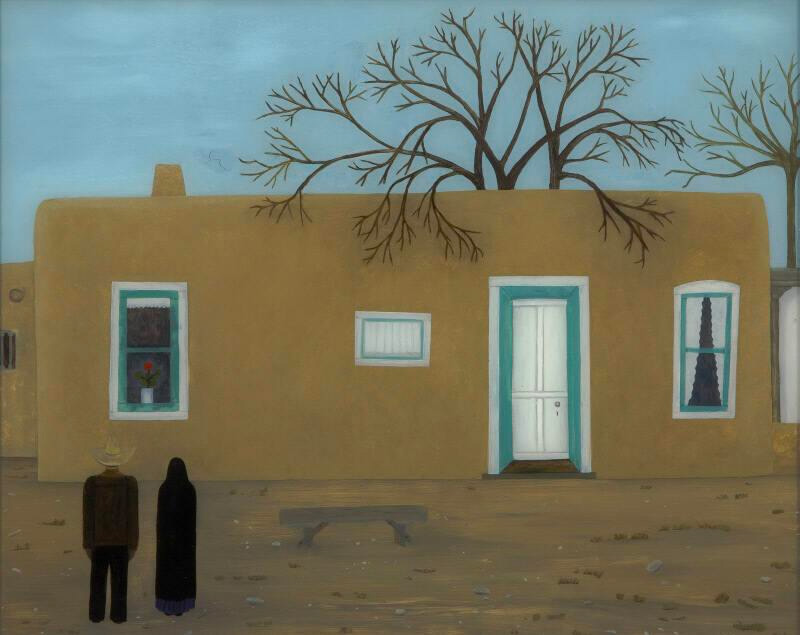 Permanent Collection
The Harwood's art collection of six thousand five hundred permanent objects includes one of the most significant holdings of Spanish Colonial and contemporary devotional art; work from the 1920s and 1930s by the Taos Society of Artists, a formative American school of landscape art; Works Progress Administration (WPA) furniture and tinwork; and post-World War II art from the Taos Modernists movement. The permanent collection also features critical pieces from the 1960s to 1990s Los Angeles to Taos movement, as well as work by notable Native American artists and other important present-day New Mexico artists.
The Centennial will highlight a selection of the most significant gifts and long-term loans of our collection:
June 3: Gus Foster Collection
September 15: Mandelman-Ribak Collection
December 1: Taos Municipal School Historic Collection
The Gus Foster Collection
The Gus Foster Collection, comprising 391 works of contemporary art by 83 artists, was gifted to the museum by Gus Foster in 2013. Foster, an artist, collector, and longtime Harwood Museum of Art supporter, has been involved in the arts throughout his life. He moved to Taos in the 1970s and was intimately involved with a group of artists who relocated from Los Angeles to Taos during this period, including Larry Bell, Ron Cooper, Ronald Davis, Ken Price, and Roscoe West.
"Of the more than three hundred pieces, only three or four were done by people that I didn't know personally," Foster said. "I have seen and followed their careers as friends and neighbors for over four decades, and that gives you some insight into their creative process." The works on view represent only a fraction of this robust contemporary art collection.
The Mandelman-Ribak Collection
The Mandelman-Ribak Collection was gifted to the Harwood Museum of Art in 2010 by the Mandelman-Ribak Foundation. This gift included the addition of a new gallery wing to the museum; the naming of two new galleries; a permanent endowment and plan for care, exhibition, and scholarship; and the gift of 72 Beatrice Mandelman and 61 Louis Ribak artworks—the largest comprehensive collection of their work currently held by any public institution.
Beatrice "Bea" Mandelman (1912–1998) and Louis Ribak (1902–1979) were dynamic figures in Taos during the Taos Moderns movement. While neither was originally from New Mexico, the couple moved to Taos in the 1940s and opened the Taos Valley Art School in 1947, serving World War II veterans on the GI Bill as well as students from the Taos Pueblo and local community. Mandelman and Ribak had a collective belief that art should be about the "new." Their work, rooted in non-figurative aesthetics, was meaningfully impacted by the region's landscape and cultures.
Taos Municipal Schools Historic Collection
Since 2012, the Taos Municipal Schools Historic Collection has been on long-term loan to the Harwood Museum of Art. Originally stored in the classrooms and library of Taos High School, the collection was built by the generosity of artists living and working in the Taos community. It eventually grew to over one hundred objects, forming a significant and valuable body of work that is now stewarded in the Harwood's climate-controlled storage facility.
The collection contains work by preeminent artists of the twentieth century, including Emil Bisttram, Dorothy Brett, Woody Crumbo, Agnes Martin, Gene Kloss, Joseph Henry Sharp, and Cady Wells. While specific works in this collection have been loaned out for national and international exhibitions, Taos Municipal Schools retain full ownership of and rights to the collection.
Open Wall
Gene Kloss authored "Report of the Ways and Means Committee for the Harwood Foundation Art Galleries" (1944) in which she decreed that any Taos artist could pay a $5 membership fee to hang or present their works annually without curation or jurying.
In honor of our grassroots foundation, local artists are invited to hang their work in the Joyce and Sherman Scott Gallery at our rotating pop-up community art exhibition. A one-day installed; self-curated exhibition will open to the community every three months in this gallery.
Open Wall artist events:
June 1
August 3
November 2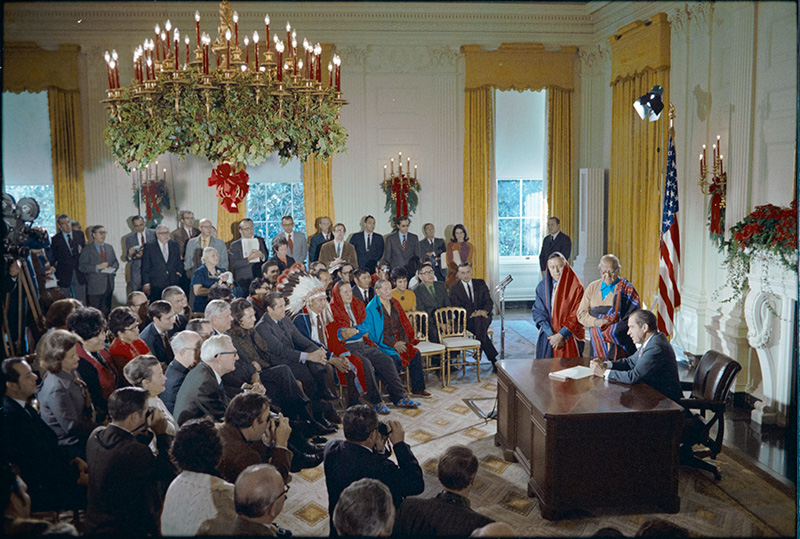 Taos Pueblo Archives
The Harwood Museum of Art is the present steward of a special subset of archives owned by the Taos Pueblo and related to the Pueblo's historic commitment to regain its sacred Blue Lake and surrounding area. Drawing exclusively from the private collections of Taos Pueblo tribal members and government offices, the archives include photographs of the historic meeting of the Taos Pueblo delegation with President Nixon in 1970, a framed copy of the bill stamped by the White House, petitions signed by Taos Pueblo members and members of the Taos community, and letters written by Taos Pueblo students to commemorate the fortieth anniversary of the return of Blue Lake. The Harwood is humbled to protect these priceless archives as the Pueblo establishes its own museum facility to house these works.
Harwood Centennial Sponsors
Lead

Betty Thom Foster Special Exhibitions Endowment
Presenting
Beatrice Mandelman and Louis Ribak Legacy Endowment  
Joyce and Sherman Scott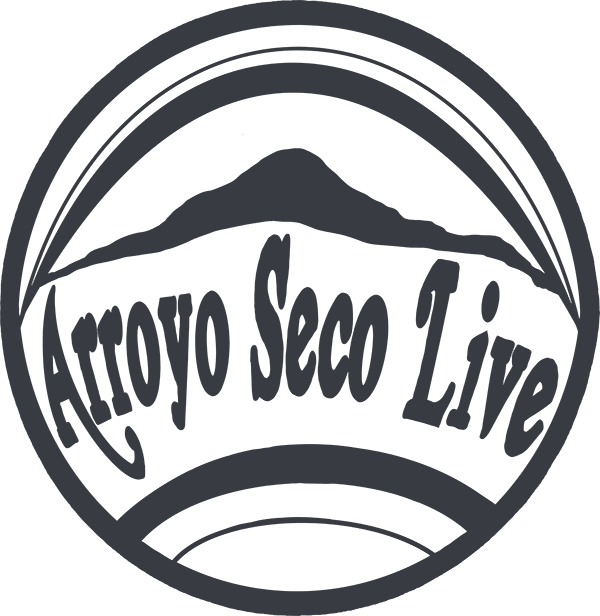 Supporting
Cindy Atkins 
Georgia O'Keeffe Museum  
Traci Chavez-McAdams and Scott McAdams 
Contributing
Casa Benavides Inn, Clean Taos, Goldleaf Framers, Harwood Museum Alliance, Inc., Invisible City Designs, JLH Media, Randall Lumber & Hardware