Santo Lowride: Norteño Car Culture and the Santos Tradition unrolls the unique story of New Mexico's interwoven expressions of devotional art and lowrider culture. Just as the santos artists seek a physical channel between the heavens and their daily life, the lowrider has evolved as a modern-day vessel for the belief systems of multicultural Norteño communities. In this exhibition, santeros, santeras, and famed lowrider artists cruise low 'n' slow side-by-side to make apparent how these two art forms share subject matter and religious function, binding them across past and present peoples.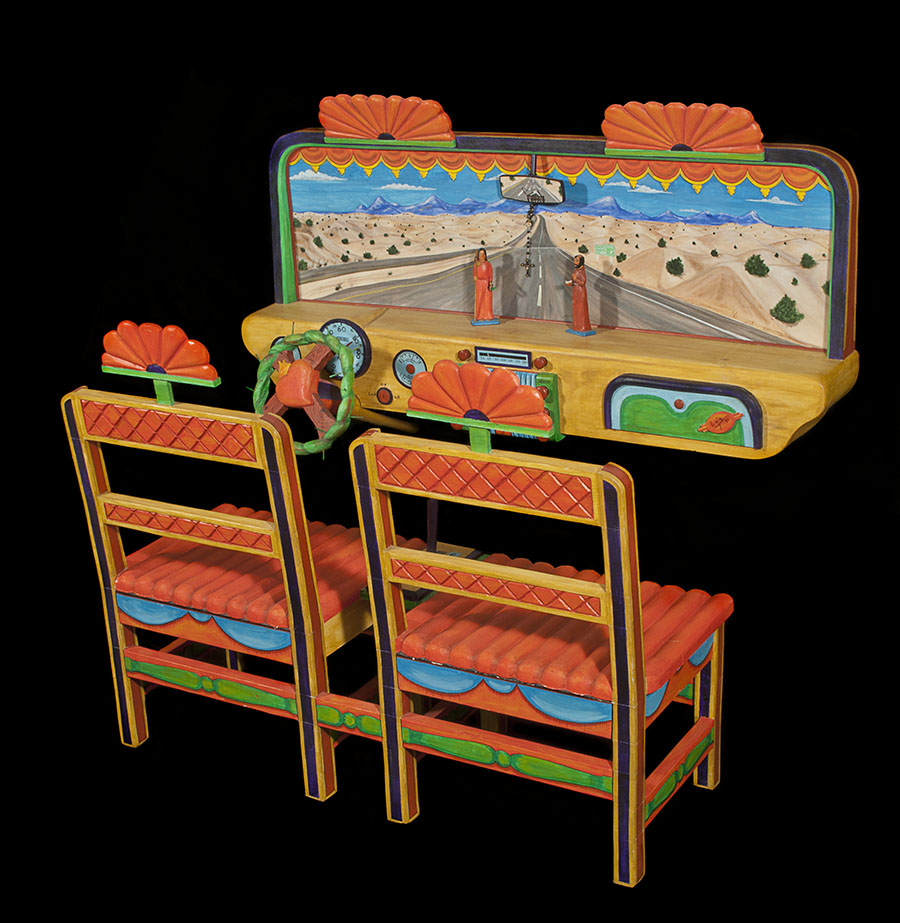 Harwood-Museum-Taos-Luis-Tapia
Luis Tapia, Chima Altar, Bertram's Cruise, 1992, carved and painted wood, dashboard: 34 ½ x 58 x 18 ¾ in; seats: 39 x 48 ¾ x 19 in. Collection of the New Mexico Museum of Art. Museum purchase with funds donated by Lynn Steuer, 1992 (1993.2.1ab). © Luis Tapia. Photo by Blair Clark.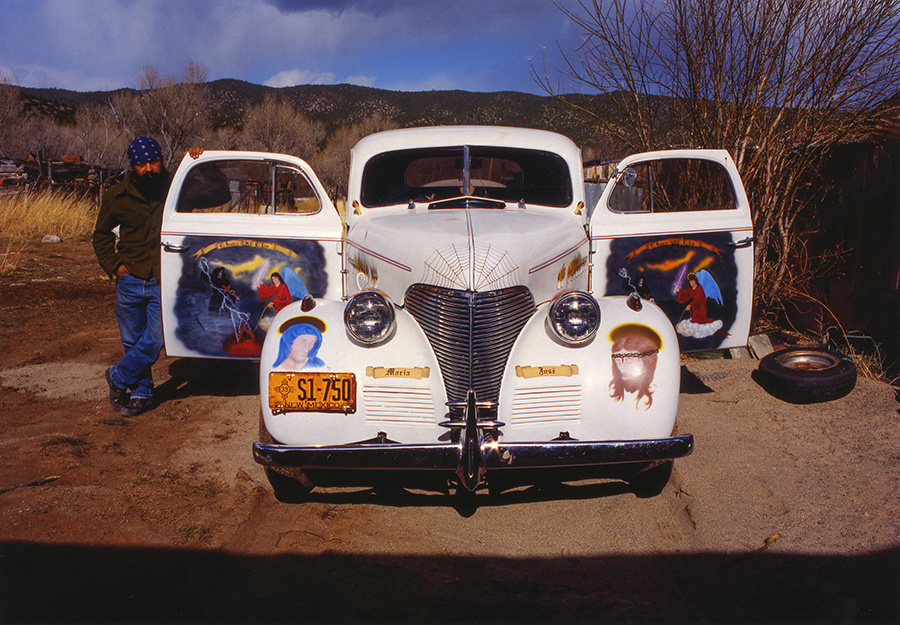 Harwood-Museum-Taos-Nicolas-Herrera-Lowrider-Shrine-Siegfried-Halus
Siegfried Halus. Nicholas Herrera, Lowrider Shrine, El Rito, New Mexico, 1997. Courtesy of the Palace of the Governors Photo Archives (NMHM/DCA), HP.2017.38.3
Nicholas Herrera, a beloved contemporary santos carver, rescued a 1939 Chevy Coupe from an arroyo and painted the vehicle with religious imagery from bumper to bumper, transforming the car into his "Lowrider Shrine." Rose B. Simpson created "Maria," a black refurbished 1985 Chevrolet El Camino named for famed Pueblo potter Maria Martinez. For Simpson, Maria is armor for the body that rides within and a vessel shepherding our human bodies, the spiritual world, and that which is carried into the terrestrial world. Chimayó artists Lowlow Medina and Randy Martinez, originators of the uniquely New Mexican lowrider tradition of painting large religious murals, have created artistic masterpieces on the hoods and trunks of cars featuring pre-Columbian imagery, New Mexico altars and churches, and, most commonly, saints.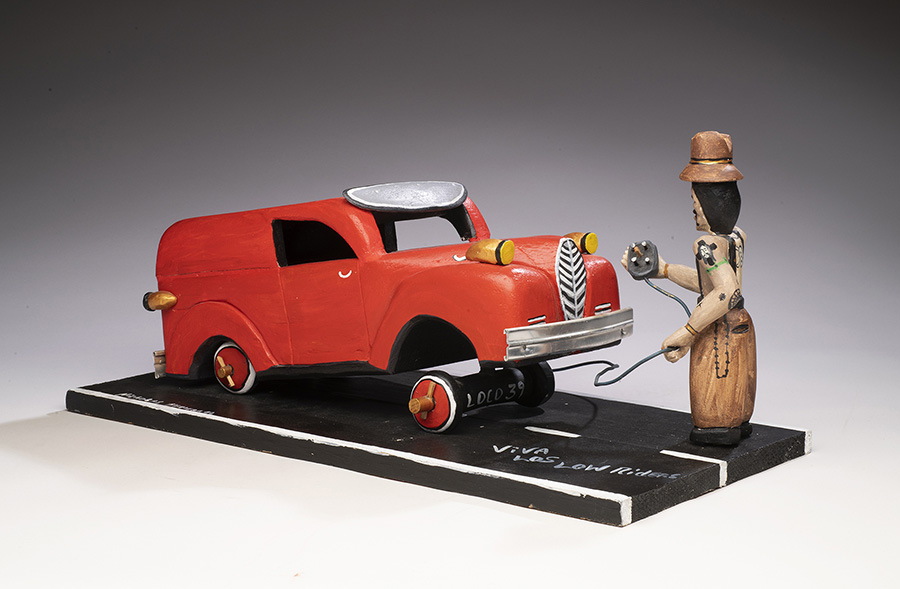 Nicholas Herrera, Viva Los Low Riders, 2000, sculpture natural varnish on wood, 9 ¾" x 24" x 11". Collection of Tia Foundation.
This
 exhibition is made possible in part by support from Greg 
Nelson,
Seco Live Inc.,
Richard
 Payne & Jane Goldberg, Heritage Hotels & Resorts, and Champs 
Towing.
Special
 thanks to Toby Morfin, Carmella Padilla, Corey 
Ringo,
Rob
Vanderslice,
the
Kachina
Lodge
 and
 the 
Town of 
Taos
.