Debbie Long's Light Ships are immersive environments that travel through light, time, and space. The inviting chambers lined with hundreds of handmade cast glass pieces are intended for slow bodily experiences of the movement of sunlight, moonlight, clouds passing, piercing stars, and summer lightning. This exhibition represents the last decade of the artist's career including: Long's newest environment
Willa
(2015-2020), a transformed 1970s recreational vehicle, an original film of Light Ships experienced in a remote New Mexico desert landscape, and an enchanting night sky environment created site-specifically inside the museum.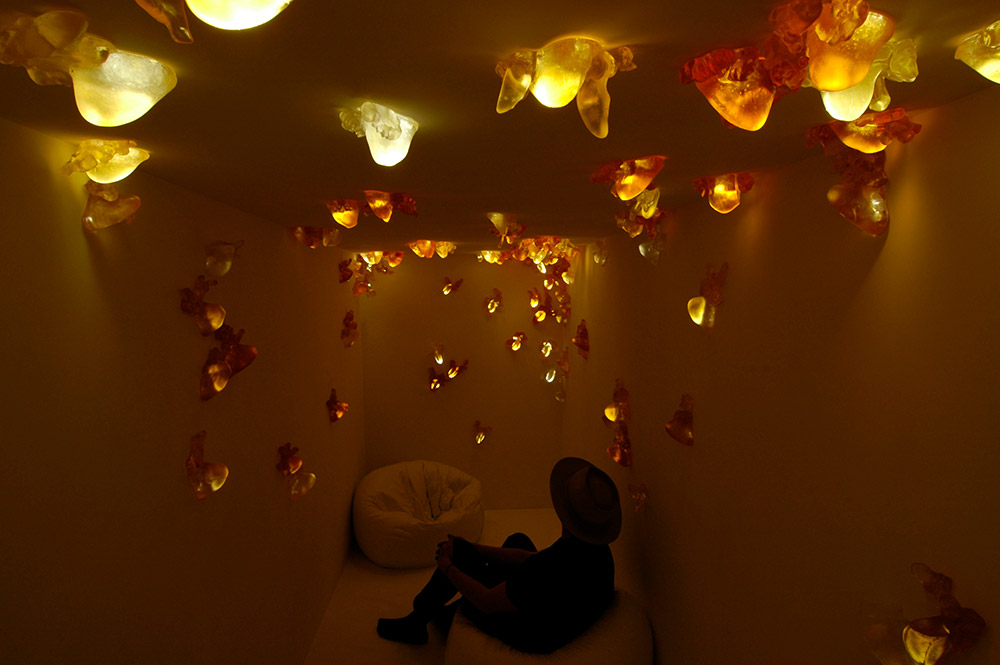 Willa Immersive Experience
Willa consists of a chamber of light and glass installed inside a 1970s recreational vehicle. Inside Willa hides a cave of wondrous glowing subterranean sculptures. The incandescent color changes as light shifts throughout the day, as the sun rises and sets, or as clouds pass overhead. There is no electric light in Willa. Light enters through a transparent roof, directly connecting the piece to the sky and cycles of day and night, weather, and seasons.
Willa is built for the slow read, for watching as light sways in rhythm with the natural world. The viewings are an opportunity to disconnect from devices so that you may awaken to the natural rhythms of the sky and subtle play of light through the lens of Willa. It is the artist's intention that this be an unmediated experience without the disruption of cameras or cellphones.
Limited viewings are available daily Wednesday through Sunday between 11am and 5pm. Three visitors at a time are allowed inside Willa for a one-hour, immersive experience. Reservations are strongly encouraged. This experience is included with admission, which must be paid upon arrival at the museum.
Artist Bio:
Debbie Long is an artist who works with light. Long builds sculptures and immersive environments that unfold over time in rhythm with light from the sky, its' cycles of day and night, weather, and seasons. For the last decade her work has focused on building large-scale outdoor light sculptures that are immersive environments for experiencing light and time. These works are chambers of light, color, and glass that shift as light changes in rhythm with light from the sky. The first of these experiential sculptures, Naima Trailer, was built between 2012-2015. The second, Willa, built between 2015-2020, was recently completed in Long's studio in Taos, New Mexico. Debbie Long has recently exhibited her work at High Desert Test Sites in Joshua Tree, CA in an exhibition curated by Dave Hickey, Andrea Zittel, Aurora Tang, and Libby Lumpkin; Chimento Contemporary in Downtown Los Angeles, CA; The Harwood Museum in Taos, NM; Gallery 128 Lower East Side in New York City, NY; Vivian Horan Gallery in New York City, NY; Boston University's Sherman Gallery in Boston, MA; and The Center for Contemporary Art in Santa Fe, NM.
Reviews and Press include the BBC Culture London, UK; The LA Weekly, Los Angeles, CA; Artillery Magazine, Los Angeles, CA; ArtSlant, Santa Fe, NM; and Art Studio America, a new book about US Artists in their studios from Trans Globe Publishing London, UK. Long's awarded grants include a Pilchuck Glass School Residency in 2004 and a Creative Capital Foundation Workshop in 2006, Paseo Taos grant in 2020. Lectures include The Harwood Museum of Art in Taos, NM and SITE Santa Fe and the Santa Fe Center for Contemporary Arts' Dialogue 360 lecture series in Santa Fe, NM.
This exhibition is made possible in part by: Larry Bell Studio, Shawn Berman and Janet Holmberg, Ms. Bornstein, Gus Foster, The Mimi Saltzman Family Foundation, Happy Price, Harwood Museum Alliance auction proceeds, and one who wishes to remain anonymous.